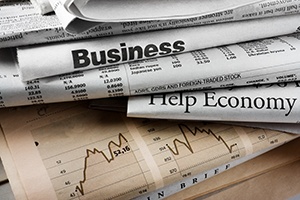 Last week was a slow one for data releases, with only consumer prices and retail sales. Overall, the news remained good. The expansion continued, with inflation maintaining a moderate pace and consumers spending freely.
Last week's news
The first major release, on Friday, was for consumer prices. Monthly inflation declined more than expected, from 0.4 percent in November to 0.1 percent in December for the headline series, which includes both food and energy. This was below the expected 0.2-percent increase. The annual figure for the headline series also declined as expected, from 2.2 percent to 2.1 percent. The core inflation number, on the other hand, which excludes food and energy, rose on a monthly basis from 0.1 percent in November to 0.3 percent in December, which was above expectations of a 0.2-percent increase. This took the annual increase from 1.7 percent to 1.8 percent, again more than expected. These numbers remain generally consistent with past performance, although slightly above expectations. Should the core inflation number continue to rise more than expected, it will bear watching. But one month of data is not something to worry about.
Retail sales were also released on Friday. The headline number, including auto sales, dropped as expected from 0.8 percent in November to a still-strong 0.4 percent for December. Core retail sales, which exclude autos and gas, also declined, from an upwardly revised 1.2 percent in November to a still-strong 0.4 percent in December. These figures indicate continued strong consumer demand growth in the fourth quarter, which was at the highest level since 2003. With consumer demand making up more than two-thirds of the economy, fourth-quarter growth is likely to be strong overall.
What to look forward to
This week's economic news will offer a look across the economy.
The industrial production report will be released on Wednesday. It is expected to show that growth ticked up from 0.2 percent in December to 0.4 percent in January on increased drilling and oil production. Manufacturing growth also is expected to tick up, from 0.2 percent in December to 0.3 percent in January, on strong global demand. There may be some downside risk in these estimates, after strong growth in recent months. Even if there is a slowdown, however, the overall trend remains positive.
Turning to housing, the National Association of Home Builders survey of home builder confidence also will be released on Wednesday. It is expected to drop slightly, from 74 in November—which was close to a 19-year high—to a still-strong 72, as demand for housing remains solid and prices continue to rise. Housing starts, released on Thursday, are expected to drop back to 1.27 million in December from 1.297 million in November. This slight pullback would signal that the industry remains healthy, despite shortages of labor, land, and materials.
Finally, on Friday, the University of Michigan consumer confidence survey is expected to rebound from 95.9 in December to 97 in January. The record stock market and strong job growth are expected to drive confidence higher. Historically, this level of confidence has indicated continued growth.
Have a great week!