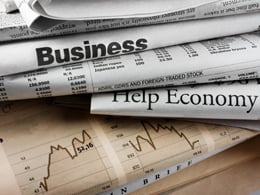 Overall, last week's economic data was rather disappointing, marked by an industrial slowdown and lackluster retail sales. Let's take a closer look.
The numbers from last week
Retail sales fall short. Retail sales for December dropped 0.1 percent against an expected increase of 0.1 percent—down from the prior month's 0.2-percent gain, which was revised up to 0.4 percent. Retails sales excluding cars, which have been a positive factor, also dropped by 0.1 percent, well below expectations of a 0.2-percent increase. (The previous month's figure saw a downward revision as well, from 0.4 percent to 0.3 percent.) Excluding autos, building materials, and gas, control group sales fell an even more disappointing 0.3 percent—down from a 0.5-percent increase the previous month (which was revised to 0.6 percent) and well below expectations of a 0.3-percent increase.
There were some quirks in the data. For instance, clothing sales were down by 0.9 percent after an unusual 1.4-percent increase in November, and car sales stayed flat despite a decrease in volume. Overall, though, the report was very weak, suggesting that consumers pulled back last month and that fourth-quarter growth will be slower than expected.
Consumer confidence gets a boost. On the other hand, consumer confidence did better. The University of Michigan Consumer Sentiment Index rose to 93.3 from 92.6, roughly in line with expectations. The expectations index, which is more forward-looking, was even more positive, rising from 82.7 to 85.7, suggesting that consumers may be gaining confidence. If true, this should help revive retail sales growth next month.
Industrial production disappoints. As expected, industrial production was disappointing, dropping 0.4 percent (the third straight decline) against expectations for a 0.2-percent drop. Production was also revised down for November, from a 0.6-percent drop to a 0.9-percent drop. The causes for the decline, however, had been foreseen: decreased energy drilling and lower utilities output due to warmer weather. It's worth noting that, excluding energy, industrial production was flat, which suggests that the export sector may have started to stabilize.
For manufacturing specifically, there was a much smaller drop, of 0.1 percent. This is the fourth decline in the past five months and is consistent with the weak ISM report. Interestingly, the decline was due to a drop in vehicle production, which may be seasonal.
Overall, industrial production is down 1.8 percent over the past year, the most since December 2009. This is worrying, as this kind of number often precedes a recession. Because this is an energy-related drop, however, the weakness may not be as widespread as in the past; without energy, industrial production would have been much better, up 0.6 percent year-on-year. Nonetheless, it remains a concern.
Economy still chugging along. All in all, the U.S. economy continues to perform reasonably well. The negative trends in energy—and to a lesser extent, manufacturing—have had a dragging effect, and growth appears to have slowed in the fourth quarter. Slower consumer spending growth was very likely a reaction to weak third-quarter job growth, however, and the rising confidence figure suggests that trend may reverse, making the slowdown temporary.
A look at the week ahead
Data from the Consumer Price Index will be released on Wednesday, with prices expected to remain flat for December as lower energy prices continue to depress any increases. On an annual basis, inflation will probably increase a bit, from 0.5 percent to 0.8 percent, largely due to the previous year's low figure. Excluding energy and food, expectations are for a monthly increase of 0.2 percent and an annual increase of 2.1 percent. Apart from energy, price pressures do appear to be increasing.
We will also see two housing data points. On Wednesday, the National Association of Home Builders will release the NAHB index, which is expected to remain unchanged at 61, a strong number. In line with that, housing starts, released on Friday, are expected to climb as well, to about 1.2 million, up from last month's 1.173 million. These are both healthy numbers and suggest that the housing sector continues to expand.
Have a great week!