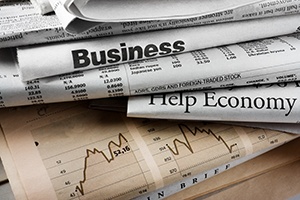 Last week was a short one, due to the Christmas holiday, with only one major data release. But the week ahead will be a busy one and will give us a wide-ranging look at the economy.
Last week's news
On Wednesday, the Conference Board released the consumer confidence survey. It showed a significant drop in the confidence reading, from 129.5 in November to 122.1 for December. This was well below expectations for a small decline to 128 and is the largest monthly decline in more than two years.
This drop was a surprise and will bear watching. But the longer-term trend continues to be positive, and the level remains very healthy. The decline came from future expectations, while the present-conditions confidence level actually edged up. This is therefore a warning sign but does not appear to be an indicator of immediate trouble.
What to look forward to
On Wednesday, the Institute for Supply Management (ISM) will release its Manufacturing index, which is expected to tick down slightly from 58.2 to 58. This is a diffusion index where values above 50 signal expansion. So, even with the expected minor pullback, this would still be a very positive signal, indicating continued manufacturing strength driven by a weak dollar and strong global growth.
Also on Wednesday, the minutes from the Federal Open Market Committee meeting on December 13 will be released. Markets will be watching closely to see what they can learn about the recent tax reform legislation and what it might mean for interest rates in 2018. Markets will also watch how the Fed is looking at inflation, which continues to run below expectations.
On Friday, three reports will be released. First up—and most important—is the employment report. It's expected to tick down from 228,000 in November, which included a rebound from the hurricanes, to a more normalized 185,000, which would remain robust. This should take the unemployment rate down from 4.1 percent to 4 percent, while average hours worked should remain at a healthy 34.5 hours per week. Wage growth is expected to accelerate a bit, from 0.2 percent to 0.3 percent. If the numbers come in as expected, this would be a very positive data point indicating continued growth.
Next up will be the U.S. international trade gap report, where the trade deficit is expected to improve slightly from $48.7 billion to $47.4 billion. This would still indicate that trade was a drag on growth in the fourth quarter, however, and the risk appears to be to the downside.
Finally, the ISM's Nonmanufacturing index is expected to tick down from 57.4 in November to 57.3 for December. Similar to the ISM Manufacturing index, this small decline would keep business confidence at high levels, and it would be a signal of continued expansion.
Have a great week and a happy New Year!