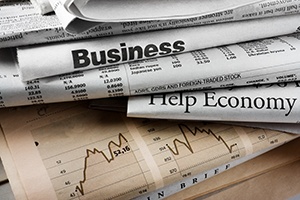 Last week saw the release of a number of important economic updates, as we wrapped up the end of the second quarter. Both major measures of consumer confidence declined month-over-month in June, but personal income and spending growth both remained healthy. This week will also see the release of a number of important economic reports, even with the federal holiday on Thursday.
Last week's news
Last week began with the release of May's new home sales report on Tuesday. Sales fell by 7.8 percent during the month, which disappointed against expectations for growth of 2.2 percent. This marks the second straight month of declining new home sales. The decline was concentrated in the northeastern and western markets, as the midwestern and southern regions actually saw solid growth in sales.
Also on Tuesday, the Conference Board consumer confidence survey was released. It dropped sharply, from 131.3 in May to 121.5 in June. Both the present conditions and future expectations indices declined during the month, as concerns regarding trade tensions with China outweighed the positive tailwind from the month's strong equity performance.
On Wednesday, we received the first estimate of May's durable goods orders. Headline orders declined by 1.3 percent, which was more than expected. This decline was due in large part to the ongoing issues that Boeing is having with its grounded 737 MAX airplanes. But judging by the core durable goods figure, which strips out the effect of transportation orders, there was actually 0.3 percent growth in May. This steady growth in the core figure suggests that overall business investment remains healthy, despite the problems with Boeing.
On Friday, May's personal income and personal spending reports were released. Income grew by 0.5 percent in May, while spending rose by 0.4 percent. These results were largely in line with expectations and show growth remained constant with April's levels. All in, this was a solid report for consumer spending, which ultimately drives the economy.
Finally, the week ended with the release of the second and final estimate of the University of Michigan Consumer Sentiment Index for June. Consumer confidence increased from 97.9 midmonth to 98.2 by month-end. This improvement was driven by a jump in the current conditions index, which was likely helped by the strong equity returns we saw during the month. Even with the improvement midmonth, the index is down slightly from May's final reading of 100. Despite the month-over-month declines in June, both the University of Michigan and Conference Board measures of confidence still sit near postrecession highs. So, there is no immediate cause for concern, but this is an area of the economy that should be monitored.
What to look forward to
The week began with the release of the ISM Manufacturing index on Monday. This measure of manufacturer optimism fell from 52.1 in May to 51.7 in June. This decline was smaller than economists expected, but it still brought the index to its lowest level since October 2016. This is a diffusion index, where values above 50 indicate expansion. So, manufacturers still expect growth going forward.
On Wednesday, we will receive the report on May's international trade balance. It is expected to show the deficit widening from $50.8 billion to $52.5 billion during the month. Both exports and imports are expected to show growth from April levels; however, imports are expected to show faster growth.
Wednesday will also see the release of the ISM Nonmanufacturing index. It is expected to drop from 56.9 to 56 in June, following a jump in May that was larger than economists expected. Despite the expected modest pullback, the service sector of the economy continues to show solid confidence and growth.
Finally, on Friday, we will receive June's employment report. It is slated to show 160,000 new jobs were added during the month. The unemployment rate is expected to stay at 3.6 percent, which represents the lowest level since August 1969. May's employment report was underwhelming, with only 75,000 new jobs added. So, this will be a widely followed data release.
That's all for this week. Thanks for reading and have a great 4th of July!