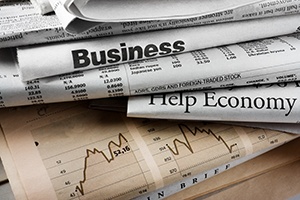 There were only a handful of important economic updates last week, but many came in better than expected. We will see a full slate of reports in the week ahead as we kick off the new month.
Last week's news
On Tuesday, the Conference Board Consumer Confidence Index was released. It came in better than expected, increasing from 129.2 to 134.1. Economists had expected a more modest increase to 130, so this was a positive sign for the economy given the importance of consumer spending to overall growth.
On Thursday, the second estimate of first-quarter GDP growth showed economic growth of 3.1 percent on an annualized basis. This is down from the initial 3.2 percent estimate; however, it still reaffirms the uncharacteristically strong growth we experienced to start the year. If this estimate holds, it will mark the best first quarter since 2015.
On Friday, April's personal income and spending reports came in above estimates, with 0.5 percent and 0.3 percent growth, respectively. Economists had forecast 0.2 percent growth for both figures. These positive results show that rising consumer confidence is translating into more spending and that the increased spending is being supported by growing incomes. All in, these were very positive results for the economy as a whole.
What to look forward to
On Monday, the Institute for Supply Management (ISM) Manufacturing index will be released. This gauge of manufacturer sentiment is expected to rise from 52.8 to 53 in May. On Tuesday, we will see the ISM Nonmanufacturing index. It is expected to show a similar modest bump from 55.5 to 55.6.
These two key measures of business confidence sit at their lowest combined level since October 2016, as trade concerns have weighed on business optimism throughout the year. In light of this, although the expected increases in sentiment may be modest in absolute terms, they would still be welcome steps in the right direction.
On Thursday, April's international trade balance report is expected to show a widening trade deficit, from $50 billion to $50.5 billion. This follows a similar widening of the deficit in March. First-quarter GDP growth was bolstered by trade tailwinds. So, this expected deterioration in the trade balance amid ongoing trade disputes is a potential concern that should be monitored.
Finally, on Friday, we will receive May's employment report. About 190,000 new jobs are expected for the month, following a strong 263,000 in April. The unemployment rate is expected to remain at 3.6 percent, as the job market remains very strong.
That's it for this week. Thanks for reading!