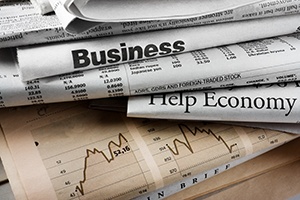 Last week's major data releases all came in above expectations, helping to calm concerns that rising COVID-19 case counts are interrupting the economic recovery. Highlights included better-than-anticipated results for business confidence and hiring in July. This week will be another busy one, with updates focusing on inflation, retail sales, and the first look at consumer sentiment in August.
Last week's news
We started the week with Monday's release of the ISM Manufacturing index for July. This measure of manufacturer confidence rose from 52.6 in June to 54.2 in July, against forecasts for a more modest increase to 53.6. This better-than-expected result marks an impressive three-month rebound for manufacturer confidence since the index hit a multiyear low of 41.5 in April. This is a diffusion index, where values below 50 indicate contraction and values above 50 indicate expansion, so this quick recovery into expansionary territory once reopening efforts began was quite welcome. The index now sits at its highest level in more than a year, which is a good sign for business spending and investment as the economic recovery continues.
On Wednesday, the international trade report for June was released. The trade deficit narrowed during the month, from $54.6 billion in May to $50.7 billion in June, against expectations for a move to 50.2 billion. May saw the trade deficit widen to its widest point in more than a year, but this rebound brought the deficit closer to levels seen throughout much of 2019. As expected, both exports and imports increased in June, with numbers rising by 9.4 percent and 4.7 percent, respectively. Factory restarts were a major driver of the rebound, with auto and capital goods shipments supporting higher levels of trade. The pace of international trade hit its lowest level in more than a decade in May, so this rebound in June was welcome, but there is still work to be done before the numbers return to pre-pandemic trade levels.
Wednesday saw the release of the ISM Services index (previously known as the ISM Nonmanufacturing index) for July. As was the case with manufacturer confidence, this measure of service sector confidence fared better than expected during the month. The index rose from 57.1 in June to 58.1 in July, against expectations for a fall to 55. This is another diffusion index, where values above 50 indicate expansion, so this continued improvement was very encouraging. It indicated that service sector confidence held up well despite rising COVID-19 case counts throughout the month. In fact, service sector confidence now sits at its highest level since February 2019, highlighting the positive impact that reopening efforts continued to have on business confidence in July. Ultimately, the better-than-expected results for both manufacturing and service sector confidence bode well for business spending and hiring during the month.
On Thursday the weekly initial jobless claims report for the week ending August 1 was released. This measure of initial unemployment claims fell notably during the week, down from 1.435 million to 1.186 million. Breaking a streak of two straight weeks with rising initial claims, this result was significantly better than the additional 1.4 million initial filers anticipated during the month. Initial jobless claims came down to their lowest level since March. Continuing unemployment claims, which are reported with a one-week lag to initial claims, also fell by more than expected, from 16.951 million to 16.107 million, against calls for 16.9 million. These surprisingly solid results helped calm fears that rising case counts and slowing reopening efforts in July would lead to another wave of mass layoffs. On an absolute basis, however, both initial and continuing claims remain elevated and should be monitored.
We finished the week with Friday's release of the July employment report. The economy added 1.763 million jobs in July, which was better than economist estimates for 1.48 million additional jobs. While this result is down from the 4.791 million jobs that were added in June, it still marks the third straight month with more than a million jobs added, after anti-coronavirus measures in March and April devastated the labor market. The underlying data was positive as well, with the unemployment rate falling from 11.1 percent in June to 10.2 percent in July, against expectations for a more modest decline to 10.6 percent. Hourly earnings, which were expected to fall by 0.5 percent, also impressed by rising by 0.2 percent, marking the first monthly increase in since April. All in all, this was an encouraging report, as it showed that hiring improvements continued during the month despite concerns of rising case counts negatively affecting the economic recovery. Looking forward, very real work still needs to be done to get to pre-pandemic employment levels, but this continued improvement despite the headwinds created by rising case counts is certainly encouraging.
What to look forward to
On Tuesday, July's Producer Price Index is set to be released. This measure of producer inflation is expected to rise by 0.3 percent during the month, after falling by 0.2 percent in June. This result would leave producer prices down 0.7 percent on a year-over-year basis. Core producer inflation, which strips out the impact of volatile food and energy prices, is expected to show a modest 0.1 percent increase during the month, which would translate to a year-over-year increase of just 0.1 percent. Producer inflation had been muted before the pandemic, but, in April, headline inflation fell by the biggest percentage on record, highlighting the deflationary pressure created by anti-coronavirus measures during the early stages of the crisis.
Wednesday will see the release of July's Consumer Price Index. As was the case with producer inflation, economists expect to see a 0.3 percent rise in headline consumer inflation during the month. This increase would bring the year-over-year pace of consumer inflation to 0.7 percent, up from 0.6 percent in June. Core consumer prices, which strip out the impact of volatile food and energy prices, are expected to go up a modest 0.2 percent for the month and 1.1 percent year-over-year. Even if estimates hold for both producer and consumer prices in July, inflation would still sit well below the Fed's stated 2 percent inflation target. Ultimately, the Fed is unlikely to see modestly increasing inflationary pressure as a major concern, given the significant damage to the labor market and the need to keep policy supportive until more jobs are regained.
On Thursday, the weekly initial jobless claims report for the week ending August 8 will be released. Economists expect to see a modest decline in initial unemployment claims, from 1.186 million to 1.15 million. If estimates prove accurate, the continuing improvement would be an encouraging development, indicating that the job market was able to withstand pressures created by rising COVID-19 case counts. But was last week's better-than-expected result for initial and continuing claims the start of a new downward trend or just an aberration? We'll have to wait and see, so this release will be widely followed. Even if the anticipated improvement for initial claims occurs, they would remain significantly above historically normal levels, highlighting the work that must to be done to get the employment market back to healthy levels. We'll continue to monitor this weekly release until initial and continuing claims revert more closely to past norms.
On Friday, July's retail sales report is set to be released. Sales are expected to rise by 1.8 percent during the month, following a better-than-expected 7.5 percent increase in June. Core retail sales, which strip out the impact of volatile auto and gas sales, are expected to show solid 1.2 percent growth during the month, after rising by 6.7 percent in June. Sales staged an impressive rebound in May and June once reopening efforts began, and continued growth in July would be another positive sign that consumers are willing and able to spend despite rising case counts. This result would be especially encouraging given the fact that both major measures of consumer confidence fell during the month, a scenario that typically serves as a headwind for sales growth. Consumer spending accounts for the lion's share of economic activity, so increased spending in July would be a good sign for overall economic growth to start off the third quarter.
Friday will also see the release of July's industrial production report. Production is expected to rise by a solid 3 percent during the month, following a 5.4 percent increase in June. This increase is expected to be supported by a 3 percent rise in manufacturing output during the month. Industrial production and manufacturing output were boosted in May and June by factory reopening efforts across the country. This report will serve as an important test regarding the ability of production to continue to rebound despite rising case counts during the month. Given the better-than-expected business confidence we saw in July, an increase in production makes sense. Still, despite the rebound in production we've seen since reopening efforts began, the estimated level of production for July would remain below pre-pandemic levels, highlighting the likelihood of a long road back to full recovery.
Finally, we'll finish the week with the preliminary estimate of the University of Michigan consumer sentiment survey for August. Economists expect to see this measure of consumer confidence fall from 72.5 in July to 71.5 in August. If estimates hold, they would bring the index below the recent low-water mark of 71.8 in April, marking an eight-year low. Rising case counts and slowing reopening efforts caused consumer confidence to decline in July, and continued case growth will likely provide a similar headwind for confidence in August. Typically, improving consumer confidence supports faster consumer spending growth, so a decline for the second month in a row is concerning. Economists will be closely monitoring confidence and spending figures over the next few months to gauge the pace of the ongoing economic recovery.
That's it for this week—thanks for reading and stay safe!