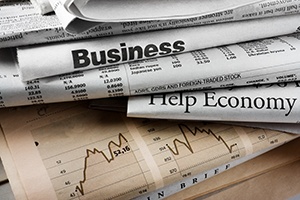 There were a number of important economic updates released last week, as is normally the case when we start a new month. Most of the news came in worse than expected, although there were some positive surprises. This week will also be busy, with looks at consumer sentiment and retail sales.
Last week's news
The week began with Monday's release of the Institute for Supply Management (ISM) Manufacturing index. This gauge of manufacturer optimism declined from 52.8 in April to 52.1 in May. Economists had expected to see a modest uptick to 53. Although this decline was disappointing, this is a diffusion index, where values over 50 represent expansion. So, manufacturers are still expected to show some growth at current levels.
On Tuesday, the ISM Nonmanufacturing index made up for the disappointing manufacturing results. It rose from 55.5 in April to 56.9 in May. This is a solid improvement in sentiment for the service sector and leaves the index at levels that are typically consistent with 2 percent annualized GDP growth.
Thursday saw the release of April's international trade report. It showed a trade deficit of $50.8 billion for the month. This was a slightly larger gap than economists expected. Both imports and exports fell sharply in April, as increasing trade war-related pressure is starting to show up in the hard data.
Finally, on Friday, the May employment report was released. Only 75,000 new jobs were added during the month, against expectations for 175,000. Often, when there is a large gap between expectations and actual results, it is due to positive revisions to previous months' reports. But this was not the case this month, as the March and April reports were both revised down. On the brighter side, unemployment remained unchanged at 3.6 percent. All in, this was a concerning report, as strong job growth has been a major driver of overall economic growth in the current expansion.
What to look forward to
On Tuesday, the Producer Price Index for May will be released. Economists expect 0.2 percent month-over-month growth. That result should leave the annual producer inflation figure at 2 percent, down from the 2.2 percent rate seen in April.
The Consumer Price Index is set to be released on Wednesday. It is expected to show modest monthly growth of 0.1 percent. The headline measure of consumer inflation is likely to show 1.9 percent year-over-year growth, which is down from April's level. Inflation growth has slowed over the past few months, and further declines are possible.
On Friday, we will receive May's industrial production report. Economists expect 0.2 percent growth, following April's 0.5 percent decline. Much of the drop in April was due to lowered utilities output, which is expected to reverse in May. There may be some risk to the downside here, given the decline we saw in the ISM Manufacturing index.
Also on Friday, the University of Michigan consumer sentiment survey will be released. The index is expected to drop from 100 to 98. Although any decline would be disappointing, the index currently sits near 15-year highs, so this mild pullback would not be a concern.
Finally, we will receive the advance report for May's retail sales on Friday. Economists expect a strong rebound of 0.7 percent growth in May, following a surprising decline in April. Given the high level of consumer confidence, strong spending growth should follow.
That's it for this week. Thanks for reading!