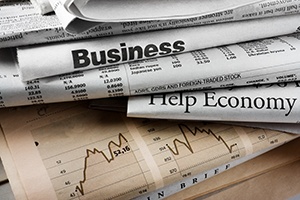 Last week, we saw several important economic data releases, with a focus on business confidence, international trade, and the August jobs report. Ahead, we'll have another busy week, with updates on inflation, retail sales, and consumer confidence set to be released.
Last week's news
Last week began with Tuesday's release of the ISM Manufacturing index, which showed an unexpected decline from 51.2 in July to 49.1 in August. This is a diffusion index, where values above 50 represent expansion and values below 50 represent contraction. August's reading, the lowest for the index since January 2016, marks the first time the manufacturing sector has experienced a contraction since August 2016. It also marks the fifth straight month of decline for the index, as the slowdown in global trade and the uncertainty created by the ongoing U.S.-China trade war have negatively affected manufacturers.
Speaking of trade, July's international trade report was released on Wednesday. The trade deficit narrowed slightly, from $55.5 billion in June to $54 billion in July. This reduction was in line with expectations for the month. Exports rose in July, while imports declined a bit. On a year-over-year basis, the trade deficit has widened slightly, as a narrowing of the deficit with China has been offset by widened deficits with other countries, including Mexico and Vietnam.
On Thursday, the ISM Nonmanufacturing index for August was released. Service sector confidence increased by much more than expected, rising from 53.7 in July to 56.4 in August. Expectations were for a more modest increase to 54. The service sector accounts for roughly seven-eighths of the economy, so this better-than-expected result should help calm concerns raised by the drop in manufacturer confidence. All in all, this report was very positive. It shows that the service sector is currently weathering the uncertainty caused by the trade war far better than the manufacturing sector.
Finally, we finished the week with the release of August's employment report on Friday. Job creation disappointed, with only 130,000 new jobs having been added against expectations for 160,000. The underlying data was more positive, however, as the participation rate increased and the unemployment rate remained unchanged at 3.7 percent. Wage growth also came in stronger than expected. Year-over-year average hourly earnings grew by 3.2 percent against expectations for 3 percent growth. While the headline job figure was disappointing, the increase in participation, along with faster-than-expected wage growth, indicates that the job market remains healthy.
What to look forward to
The week will begin with Wednesday's release of the Producer Price Index for August. Producer inflation is expected to come in at 0.1 percent for the month and 1.8 percent year-over-year. Core producer prices, which strip out the impact of volatile food and energy prices, are set to show monthly growth of 0.2 percent and year-over-year growth of 2.2 percent. Rising price pressure created by the imposition of 25 percent tariffs on $200 billion in Chinese goods has largely been offset by a decline in import prices, keeping producer inflation muted for the time being.
On Thursday, the Consumer Price Index is set to be released. Economists expect to see August numbers similar to those for producers, with 0.1 percent monthly inflation and 1.8 percent year-over-year growth. As was the case with producers, core consumer inflation is set to come in higher than headline inflation, with 0.2 percent monthly growth and 2.3 percent annual growth expected. Rising labor costs are starting to be reflected in higher consumer prices, as annual core consumer inflation of 2.3 percent is the highest reading in more than a year. Despite the anticipated uptick in core consumer prices, overall inflation remains below the Fed's stated 2 percent inflation target.
Thursday will also see the release of the August retail sales report. Sales are expected to increase by 0.2 percent in August, following a 0.7 percent gain in July. Retail sales growth has been one of the bright spots in the economy so far this summer, so continued growth here would be welcome. It would mark the sixth straight month of sales growth.
Finally, we will finish the week with the first estimate of the University of Michigan consumer sentiment survey. It is set to increase to 90.5 in September following the sharp drop to 89.8 in August. Market volatility in August likely caused much of this drop, but equity markets have been able to rebound to near all-time highs to start the month. As such, a rebound in consumer confidence would make sense. Lower gas prices and low jobless claims should also help support an increase in consumer confidence for the month.
That's it for this week—thanks for reading!