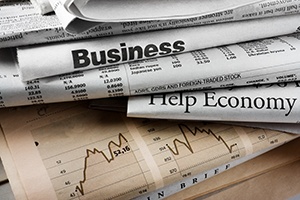 Last week was relatively slow in terms of economic updates. Notably, a disappointing jobless claims report raised concerns of a slowing economic recovery in July due to rising coronavirus case counts and a pause or rollback in reopening efforts in some states. This week will be very busy, with scheduled reports covering most important areas of the economy. Highlights include the major consumer confidence reports for July and our first look at second-quarter GDP.
Last week's news
On Wednesday, June's existing home sales report was released. Sales increased by 20.7 percent during the month, after falling by 9.7 percent in May. This result was slightly below economist estimates for a 21.4 percent increase, but still represents the best single month for existing home sales growth on record. Sales of existing homes were supported by declining mortgage rates, with the average 30-year national mortgage rate falling from 3.51 percent at the start of the month to 3.27 percent at month-end. Still, despite the strong rebound for this indicator in June, existing home sales are down more than 11 percent on a year-over-year basis. As such, very real work remains to be done to get this portion of the housing market back to pre-pandemic levels.
Thursday saw the release of the weekly initial jobless claims report for the week ending July 18. Unexpectedly, initial unemployment claims rose during the week. This outcome, with claims up to 1.416 million from 1.307 million the week before, was worse than economist estimates for a modest fall to 1.3 million initial claims. The July 18 report marks the first increase in weekly initial unemployment claims since the index peaked at more than 6.8 million in late March. This disappointing result points toward a slowdown in the pace of the economic recovery in July, as rising coronavirus case counts led to a notable moderation in economic activity. Continuing unemployment claims were a bit more encouraging, falling from 17.304 million to 16.197 million. Still, even with this better-than-expected improvement, continuing unemployment claims remain elevated on a historical basis. Continuing claims are reported on a one-week lag to initial claims. Ultimately, this release showed the very real headwinds that rising case counts represent for economic recovery.
We finished the week with Friday's release of the June's new home sales report. New home sales came in far better than expected, increasing by 13.8 percent for the month, against expectations for a modest 3.6 percent rise. This result follows an upwardly revised 19.4 percent increase in new home sales in May. The June performance brought the pace of new home sales to its highest level since 2007, as a record low in mortgage rates led to a surge in sales once reopening efforts began. New home sales are a smaller and often more volatile portion of the housing market compared with existing home sales. Nonetheless, their strong rebound in May and June indicates that sectors of the housing market served as a bright spot in the initial economic rebound.
What to look forward to
On Monday, June's preliminary durable goods orders report was released. Durable goods orders increased by more than expected, rising 7.3 percent during the month against forecasts for a 6.9 percent increase. This result follows a downwardly revised 15.1 percent increase in May that was supported by factory reopening efforts. Core durable goods orders, which strip out the impact of volatile transportation orders, increased by 3.3 percent in June, slightly below expectations for a 3.6 percent rise. Core durable goods orders are often used as a proxy for business spending, so the continued rebound in core orders in June is a reassuring sign that business spending was bolstered by reopening efforts.
Tuesday will see the release of the Conference Board Consumer Confidence Index for July. Economists expect to see consumer sentiment fall modestly during the month, from 98.1 in June to 95 in July. While this result would be disappointing, it would be in line with a similar decline in the preliminary reading of the University of Michigan consumer sentiment index for July. Rising coronavirus case counts across the country are expected to serve as a headwind for any gains in confidence until the public health picture improves. Stronger consumer confidence typically supports faster consumer spending growth, so this anticipated decline is concerning, albeit understandable.
On Wednesday, the Fed will release the FOMC rate decision at its July meeting. As the federal funds rate was cut to virtually zero at the start of the pandemic, economists do not expect any rate hikes this year. Given the worsening public health situation since the Fed met in early June, the July press release should discuss the negative impact that rising coronavirus case counts are expected to have on the economic recovery. The uncertainty surrounding efforts to contain the coronavirus was previously mentioned by Fed members as a major risk factor for economic improvement. The central bank will likely use the July meeting to reiterate its desire to keep monetary policy as supportive as possible throughout the crisis.
On Thursday, the weekly initial jobless claims report for the week ending July 25 will be released. Economists are currently forecasting a modest decline from 1.416 million initial unemployment claims the week before to 1.41 million. As we saw last week, rising coronavirus case counts and the associated pause or rolling back of reopening efforts in certain states have begun to impede improvements to initial jobless claims. This headwind is expected to continue until the public health picture is brighter. Both initial and continuing unemployment claims remain high compared with historical norms, so we'll be monitoring these weekly releases until claims return to more normal levels.
Thursday will also see the release of the first estimate of GDP growth for the second quarter. Economists expect to see a 34 percent annualized decline in economic output during the quarter, highlighting the devastating impact that anti-coronavirus measures had on the economy. Personal consumption, which is expected to be the major driver of the anticipated economic contraction, is expected to decline 35 percent on an annualized basis. These figures are certainly concerning, but it's important to recognize that this data looks backwards and economists anticipate a double-digit rebound in third-quarter GDP growth. Ultimately, this release will give us a better picture of the economic disruption in the second quarter and the work required to get economic output back to levels seen before the crisis.
On Friday, June's personal income and personal spending reports are set to be released. Economists expect the results to be mixed. Forecasts look for spending to increase by 5.5 percent and incomes to fall by 1 percent. Personal spending staged an impressive recovery in May, rising 8.2 percent after dropping by more than 12 percent in April. Continued spending growth for June makes sense, given the strong retail sales growth during the month. Incomes have been volatile over the past two months. Due to the $1,200 refundable tax credits distributed in April, personal income soared by a record 10.8 percent during the month, before declining by 4.2 percent in May. Given the lack of recurring government stimulus payments and the continued stress on the jobs market, the anticipated decline in incomes in June makes sense. Looking forward, additional rounds of direct economic stimulus to consumers could support income growth, but, at this time, no final plans are in place for such payments.
We'll finish the week with the second and final estimate of the University of Michigan consumer sentiment survey for July. The index is expected to fall modestly from 73.2 mid-month to 72.7 at month-end. As with the Conference Board Consumer Confidence Index, economists expect rising coronavirus case counts to serve as a headwind for improvements. The anticipated decline would bring the index close to the eight-year low of 71.8 recorded in April, which was followed by a partial rebound to 78.1 in June. If estimates prove to be accurate, they would signal a notable moderation of the economic recovery we saw in May and June and a poor outlook for July's consumer spending reports.
That's it for this week—thanks for reading and stay safe!