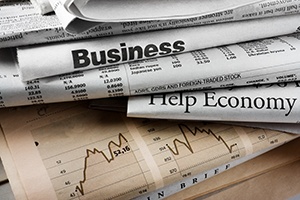 Last week, the only major economic report was on consumer prices, released on Friday. Overall, this month's data suggests that inflation remains low but is not dropping further. Therefore, the Fed will remain watchful, and it isn't likely to increase rates in September but may well start the balance sheet reduction program.
Last week's news
Headline consumer price inflation, including food and energy, rose by 0.1 percent for July. This was below expectations of a 0.2-percent increase, although up from a flat result in June. On an annual basis, the same trend held: 1.7 percent in July versus expectations of 1.8 percent, although up from 1.6 percent in June. These numbers are still below the Fed's target rate for inflation of 2.0 percent per year.
Core prices, which exclude food and energy, also rose by 0.1 percent for July. Again, this result was below expectations of 0.2 percent and is the same as reported in June. On an annual basis, core inflation came in at 1.7 percent again, in line with expectations and with the previous month's number.
What to look forward to
This will be a busy week for economic data, offering looks at all major sectors of the economy. Although the data is expected to be mixed, it should suggest continued growth overall.
On Tuesday, the retail sales report will tell us whether consumers are willing to spend again. After last month's 0.2-percent decline, headline sales are expected to bounce back by 0.4 percent on more stable gasoline prices and a recovery in auto sales. Core retail sales, which exclude autos, are also expected to bounce from a 0.2-percent drop to a 0.4-percent gain. That said, there are downside risks, and the results might come in below expectations. If so, the gap between confidence and spending behavior will continue as a worry point.
The National Association of Home Builders survey, released Tuesday, is expected to rebound from 64 to 65 after a surprising decline last month. This would be a positive sign of moderating industry sentiment. On Wednesday, housing starts are expected to show a small increase from 1.215 million to 1.225 million. Recent strong building permit data suggests that there might be some upside to this number. If both reports come in as expected, that would be positive for both the housing sector and the economy as a whole.
Also on Wednesday, the Federal Open Market Committee will release the notes from its July meeting. Markets will be looking for details on how concerned the Fed is about low inflation, as well as any comments on the pending debt ceiling debate. Most important, though, will be language that suggests a likely September start for the Fed's balance sheet reduction plan. This would be considered a vote of confidence in the economy as a whole.
On Thursday, we get a look at the business side of the economy with the industrial production numbers. Industrial production is expected to drop back slightly, from growth of 0.4 percent in June to 0.3 percent in July, still a strong result. Growth will come once again from increases in oil production and gains in manufacturing. Manufacturing is expected to maintain solid growth, at 0.2 percent for July, supported by a weaker dollar and stronger economies around the world. Continued growth in the business sector would help offset weaker consumer spending growth.
To conclude the week, we will get another look at the consumer with the University of Michigan Consumer Confidence survey. This is expected to tick up from 93.4 in July to 94.0 in August after three straight months of declines. Despite weaker expectations recently, this index has remained at a healthy level that is consistent with continued growth.
Have a great week!