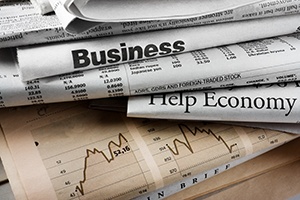 Last week was a busy one for economic reports. The week ahead will be a bit slower, although we will get some news on housing.
Last week's news
On Tuesday, the consumer price indices were released. As expected, the headline index—which includes energy and food—rose by 0.2 percent for May, the same as in April. Core prices—which exclude food and energy—also rose as expected by 0.2 percent for May, up from a 0.1-percent increase in April. Annual rates increased by slightly more than expected for the headline index, up from 2.5 percent in April to 2.8 percent in May on base effects in gasoline prices. The core index matched expectations with an increase of 2.2 percent for May, up from 2.1 percent in April. These figures are above the Fed's target range for inflation. As such, they support continued rate increases, which also happened last week.
The producer price indices were released on Wednesday. Headline inflation came in significantly higher than expected, increasing from 0.1 percent in April to 0.5 percent in May. This result was above expectations of a 0.3-percent increase on a rise in energy prices. The core figure also rose faster than expected but by less; it was up 0.3 percent in May from 0.2 percent in April. On an annual basis, the headline index rose to 3.1 percent in May from 2.6 percent in April, while core price growth increased from 2.3 percent in April to 2.4 percent on an annual basis. Cost pressures on business are increasing, which also supports continued Fed action. The question is when these pressures will feed through to consumers.
On Thursday, the retail sales report also exceeded expectations. The headline number went from an upwardly revised 0.4-percent increase in April to a 0.8-percent increase in May. Core sales, which exclude autos and gas, also posted similar gains—from 0.3 percent to 0.8 percent. This is a strong level of spending growth. The continued rebound in consumer spending will support overall faster second-quarter growth, which will likely be well above that of the first quarter.
On Friday, the industrial production report showed a drop in growth. Although April growth was revised up from 0.7 percent to 0.9 percent, May dropped to a decline of 0.1 percent. This result was well below expected growth of 0.2 percent. Manufacturing did even worse. It was down from 0.5-percent growth in April to a decline of 0.7 percent, the worst result since early 2014. This was largely a one-time shock, as a fire at a parts supplier disrupted vehicle production, so this drop should be reversed next month. Despite the atypically weak monthly data, the year-to-year figure remained strong, moving to the highest level since late 2014.
The University of Michigan consumer confidence survey, also on Friday, beat expectations. It rose from 98 in May to 99.3 for June, a three-month high. High levels of confidence typically signal continued high levels of consumer spending, which is consistent with the strong retail report earlier in the week.
Finally, the regular meeting of the Federal Open Market Committee was last week, with the release of the statement and press conference on Wednesday. The Fed raised rates, as expected. More important, however, the statement and press conference were quite upbeat about the economy—suggesting further rate increases may come faster than expected.
What to look forward to
On Monday, the National Association of Home Builders released its industry survey for June, which dropped from 70 last month to 68. But given the lack of lots and labor, as well as a surge in lumber prices, this pullback is reasonable. Overall, the index remains at a healthy level. Despite the shortage of home supply, demand remains strong and should continue to support industry confidence. With inventories falling to a record low in April, that trend should continue.
On Tuesday, housing starts are expected to tick up slightly, from 1.29 million in April to 1.31 million in May. Single-family starts have stayed stable over the past several months, while multifamily starts have been volatile. Items to watch will be whether single-family starts rise to match industry confidence.
On Wednesday, the existing home sales report is also expected to rise, from 5.46 million in April to 5.50 million in May. This will come on continued strong demand, especially as buyers move to purchase now before mortgage rates rise further. There may be some downside risk here, however, on lack of supply.
Overall, the housing market is expected to continue to improve, but it will be constrained by lack of supply.
Have a great week!