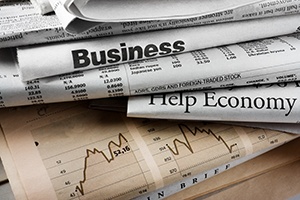 Last week was a busy one for economic data, with looks at industrial production, housing, trade, and, most important, retail sales. The week ahead will be a bit slower, but we will get a look at housing sales, durable goods orders, and what economic growth looked like at the start of the year.
Last week's news
On Tuesday, the industrial production report disappointed. It went from a small gain of 0.1 percent in February to a decline of 0.1 percent for March, below expectations of a 0.2-percent gain. The drop was largely on declines in auto production and wood products. Manufacturing did better but still underperformed. Here, we saw a decline of 0.4 percent in February to flat for March, against an expected 0.2-percent gain. This report shows that industrial production was actually down by 0.3 percent (annualized) for the first quarter, which will weigh on economic growth.
Also on Tuesday, the National Association of Home Builders industry survey was released. It rose but by less than expected, from 62 in March to 63 for April, reflecting modestly increasing confidence in the homebuilding market. With interest rates declining, affordability has improved, which makes such an improvement reasonable.
On Wednesday, the international trade report gave some good news. The trade deficit improved further from $51.1 billion in January, which was a sharp drop over December, to $49.4 billion for February. This figure was much better than the expected $53.4 billion. These results are significantly better than recent figures, and the improvement will help first-quarter growth, which will be released this week.
On Thursday, the retail sales report also provided some good news. The headline index rebounded sharply, from a 0.2-percent decline for February to a 1.6-percent gain for March. This result was well above the expected 1-percent gain, on a rebound in auto sales and higher gasoline prices. The core index, which excludes autos and gas, also bounced by more than expected, from an upwardly revised 0.2-percent drop in February to a 1.2-percent gain in March. The strong results take the short-term trend back into positive territory but are still weak by recent standards. Even with the rebound, the data suggests we may well see slower growth in the first quarter.
On Friday, the housing starts report disappointed. Starts came in at 1.14 million for March, essentially the same as a downwardly revised 1.14 million in February on an annualized basis, against an expected increase to 1.225 million. This result indicates the housing market has not yet stabilized after a slowdown, despite a drop in mortgage rates and a consequent rise in affordability.
What to look forward to
On Monday, the existing home sales report is expected to show that sales slowed from an annualized rate of 5.51 million in February to 5.29 million in March. This result would suggest that lower mortgage rates may not have supported housing demand as much as expected. Similarly, on Tuesday, the new homes sales report is expected to drop from a 667,000 annualized run rate in February to 645,000 in March. If these numbers come in as expected, they would show that recent optimism around the housing sector may be overdone.
On Thursday, we will see the durable goods orders report. The headline index is expected to show a significant rebound, going from a 1.6-percent decline in February to a 0.5-percent gain in March. This jump would be based largely on a recovery in aircraft orders, despite Boeing's problems with the 737 Max. The core index, which excludes transportation and is a better economic indicator, is also expected to show a rebound, from a decline of 0.1 percent to a gain of 0.3 percent. There may be some downside risk to these numbers as recent business confidence survey data has been weak. Even if the numbers come in as expected, slowing business investment growth is likely to be a drag on first-quarter growth.
Finally, on Friday, the initial estimate of first-quarter economic growth, in GDP, is expected to show growth dropping from 2.2 percent in the fourth quarter of last year to 1.8 percent for the first quarter of 2019. Most of the growth is likely to come from net trade, on faster export growth, slowing imports, and increased government spending, while consumption and business investment both slowed. First quarters have historically been weak and followed by stronger growth. So, if the number comes in as expected, it would be in line with recent history.
Have a great week!