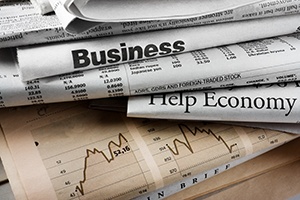 Last week was a busy one for economic news, with a wide range of data from across the economy. This week will give us a final view of housing for the month, as well as whether business investment continues to improve. We'll also get a preliminary look at how the economy performed in the third quarter.
Last week's news
On Monday, the retail sales report slowed sharply, with a gain of 0.1 percent. This result was well below the expected growth of 0.7 percent and the same as the 0.1-percent gain in August. Core retail sales, which exclude autos and gas, also slowed; they were flat in September, while August growth was revised down from 0.2 percent to 0.1 percent. This is the second month in a row of slower-than-expected growth and may suggest consumer spending growth is starting to slow. That said, quarterly growth remains strong, which should support the third-quarter estimate later this week.
On Tuesday, the industrial production report ticked down a bit, as expected. It went from a gain of 0.4 percent for August to a gain of 0.3 percent for September. This result was driven by a decline in manufacturing output, which dropped from an upwardly revised 0.3-percent gain in August to a 0.2-percent gain in September. Here, however, Hurricane Florence seems to have had a negative effect, which of course would be a one-time event. Given this, and despite the small pullback, the numbers indicate continued growth and remain positive for the economy.
Also on Tuesday, the National Association of Home Builders survey surprised by rising from 67 to 68, against an expected decline to 66. This result suggests that despite the headwinds in the housing market, developers remain confident.
Despite that confidence, however, housing market activity continues to slow. The housing starts report, released on Wednesday, showed a larger decline than expected. It dropped from 1.28 million in August to 1.21 million (annualized) in September—worse than the expected 1.22 million and despite better building permit activity last month.
Also on Wednesday, the minutes from the last Federal Open Market Committee meeting were released. Markets were looking for guidance on whether the Fed will hike rates in December and on what to expect in 2019—whether three hikes are indeed likely and on what might change that plan. The minutes confirmed that the Fed remains confident in the economy and that continued rate hikes remain very likely.
Finally, on Friday, the existing home sales report disappointed; it dropped from 5.33 million in August to 5.15 million in September, well below the expected 5.29 million. Housing in general appears to be in a slowing trend, and this data continues that trend.
What to look forward to
On Wednesday, the new home sales report is expected to stay steady at 629,000. This result would be indicative of a potential pause in the ongoing housing slowdown. If the number comes in as expected, it will also signal that while housing growth continues to slow, the downtrend remains under control in one of the most economically impactful sectors.
On Thursday, the durable goods orders report will be released. The headline index is expected to pull back after a significant bounce last month. It should go from a 4.4-percent gain in August to a 1-percent decline in September, on a decrease in transportation orders. This headline index is notoriously volatile, as we can see from these numbers. The core index, which excludes transportation and is a much better economic indicator, is expected to improve from flat growth in August to 0.3-percent growth in September, on growing business investment. This would be a healthy level of growth.
Finally, on Friday, the first estimate of third-quarter growth in gross domestic product is expected to show that economic growth slowed from 4.2 percent in the second quarter to a still healthy 3.3 percent in the third quarter. While there was some volatility in trade-related components, that is likely to have largely netted out. As such, the slowdown would be due to slower domestic economic activity. If the number comes in as expected, it would show continued healthy growth but also suggest that growth at the level of last quarter was not sustainable.
Thanks for reading and have a great week!