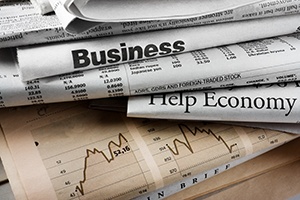 Last week presented a wide range of data—from the consumer, to manufacturing, to the economy as a whole. Although the results were generally disappointing, much of that weakness appears to come from the effects of Hurricane Harvey. Historically, major storms have resulted in weak data for a month or two. So, while it is worth watching, we will likely see a bounce back in the coming months.
Last week's news
On Thursday, the consumer price index gave us a look at inflation. The monthly change in the headline index, which includes food and energy, surprised to the upside. It increased 0.4 percent in August, well above both the 0.1-percent increase in July and expectations of a 0.3-percent gain. The rise was largely due to the spike in gas prices after Hurricane Harvey. This took the annual inflation rate from 1.7 percent to 1.9 percent, closer to the Federal Reserve's 2-percent target.
Core prices—which exclude energy and food and were therefore not affected by the spike in gasoline prices—rose. Here, there was a more modest increase from 0.1 percent to 0.2 percent on a monthly basis. This result was in line with expectations and stayed steady on an annual basis at 1.7 percent, higher than expectations of 1.6 percent. Core prices are a better signal for underlying economic conditions, as energy and food prices can be volatile. The monthly increase, combined with the higher-than-expected annual figure, may ease the Fed's concern about low inflation.
The retail sales report, released on Friday, showed a 0.2-percent decline in August for the headline retail sales figure, which includes autos. This was down from 0.6 percent in July and below expectations for a 0.1-percent gain on declining auto sales. The core figure, which excludes autos and is therefore a better indicator for underlying trends, also underperformed. It showed a gain of 0.2 percent in August. This result was a decline from a downwardly revised gain of 0.4 percent in July and below expectations of a gain of 0.5 percent. Although disappointing, the weakness may be due to hurricane effects.
Industrial production also disappointed significantly. It was down by 0.9 percent in August, from an upwardly revised 0.4-percent gain in July. This decline was largely due to low utilities output. More significant, manufacturing growth also came in well below expectations. Here, there was a 0.3-percent decline in August—below a decline of 0.1 percent in July and well below expectations of growth of 0.5 percent. This result was quite surprising, given the increase in manufacturing employment in the previous month. But, again, a Fed study suggests that much of the weakness was due to Harvey.
Finally, the University of Michigan consumer confidence survey declined slightly to 95.3 from 96.8, better than expectations of 95. It remains at a very healthy level, despite the effects of the hurricanes and rising gas prices. Consumers do not appear to be much concerned with the storms, which suggests the economic damage may be short lived.
As noted above, weak data is normal in the aftermath of a major storm, so there is nothing to worry about at this point. We will keep an eye on these stats, but the effects of Harvey and Irma can be expected to run through the data for the next month or two. We will be interpreting it accordingly.
What to look forward to
Most of the economic data this week focuses on housing. On Monday, the National Association of Home Builders industry survey will be released. It is expected to decrease from a very strong level of 68 in August to a still strong level of 67 in September. Given extensive damage from hurricanes Harvey and Irma—which may worsen labor and material shortages for homebuilders—there may be some downside risk to this number.
On Tuesday, housing starts are expected to tick up from 1.155 million in July to 1.18 million in August. The July number was a surprise, resulting from declines in multi-family developments, which have historically been volatile. Single-family starts held their ground. Although multi-family starts are expected to decline even more in August, strong demand and limited supply for single-family homes should keep that sector increasing.
On Wednesday, existing home sales are likewise expected to tick up—from 5.44 million in July to 5.47 million in August. Once again, despite strong demand, low inventory is expected to constrain sales. This means there is some downside risk to this number. The July number was the lowest in almost a year, and the trend is likely to continue.
Also on Wednesday, the Federal Open Market Committee will conclude its regular meeting. Although the Fed is likely to continue viewing the economy in a positive light, uncertainty around inflation, as well as the unknown impacts of the hurricanes, will likely result in no change to interest rates. The Fed is expected, however, to start the process of reducing the balance sheet by slowing the reinvestment of maturing securities and payments. This has been well telegraphed to markets, and reaction should be minimal. Still, markets will be watching to make sure that the actual plan is the same as described previously.
Overall, if the news comes in as expected, the signal for the rest of the economy will be positive.
Have a great week!