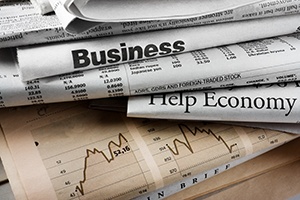 Last week was a slow one, primarily focused on housing, with reports on sales of existing homes on Wednesday and new homes on Friday. Unlike much of the news recently, the data showed that housing continues to do well, with strong demand and activity.
Last week's data
Existing home sales were up to 5.62 million in May, a surprise increase from 5.57 million in April, after an earlier drop from March to April. Expectations were for an essentially flat result. The increase occurred despite a lack of homes for sale. As adjusted for population, the supply of homes for sale is at the lowest level since records began in 1982. Sales levels on both a six- and twelve-month trend also showed increases, rising to levels not seen since September 2007. These results suggest that the housing market should continue to do well.
Also coming in strong, at 610,000, were new home sales for May. Sales rebounded from 569,000 in April, after a large drop from March to April, and also beat expectations for 590,000. New homes are being built by developers and are therefore much more available than existing homes, which counteracts the supply shortage, and the bounce back reflects continued demand. Long-term trends also improved, up to the highest levels since July 2008.
Overall, with both figures beating expectations, demand remains strong despite a shortage of inventory. Housing should continue to be a positive force for the economy as a whole.
What to look forward to
This week offers a look at both business demand, as well as consumer confidence and spending.
On Monday, durable goods orders for May were reported. The headline index was down 1.1 percent, worse than expectations of a 0.6-percent decrease, and after a 0.8-percent drop in April. The major factor here was a worse-than-expected decline in aircraft orders, which was only partially offset by an improvement in auto orders. Core orders, which exclude transportation, also disappointed, with just a 0.1-percent gain. Overall, despite the weakness in transportation, the small rebound in the core figure suggests that business investment continues to hold, which will support the economy.
On Tuesday, we'll learn the results of the Conference Board's Consumer Confidence survey. It's expected to drop to 116.0 for June, down from 117.9 in May. Although the drivers of confidence—such as labor market conditions, gas prices, and the stock market—remain positive, other measures have pulled back in recent months, so some moderation in this survey is reasonable. Even if there is a slight decline, confidence remains at levels that historically have indicated continued growth.
On Friday, we get another look at the consumer with the Personal Income and Spending reports. These will tell us whether confidence is actually leading people to go out and shop. Personal income is expected to grow by 0.3 percent in May, down from 0.4 percent in April, but still a healthy level of growth—and one that allows for faster spending. Personal spending, though, is expected to come in at just 0.1 percent in May, down from 0.4 percent in April, due to lower auto sales and gas prices. What's interesting here is that, because inflation has dropped, this would actually represent a faster rate of growth in real spending. So, the decline is less worrisome than it might otherwise be, and spending growth remains supportive for the economy.
Have a great week!