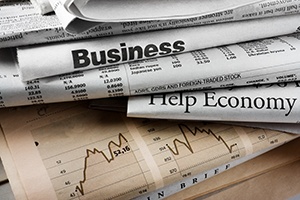 Last week's economic reports for industrial production and the housing market beat predictions, while the Fed lowered rates as expected. This week, we'll be monitoring important updates for consumer confidence and spending, new home sales, and durable goods orders.
Last week's news
The week began with Tuesday's release of the industrial production report for August, which showed much-faster-than-expected growth. Headline production grew by 0.6 percent, against expectations for 0.2 percent growth. This accelerated growth during the month was due in large part to a rebound in manufacturing output, which grew by 0.5 percent. This strong result should help calm fears of a sustained downturn in manufacturing output following the decline in manufacturing confidence we've seen over the past few months.
Also on Tuesday, the National Association of Home Builders Housing Market Index was released. Home builder confidence increased by more than expected, from 66 in August to 68 in September, against expectations for a more modest increase to 67. This result marks the highest level of home builder confidence in 11 months, as low interest rates and strong demand on the part of home buyers continue to support home sales.
On Wednesday, the increased home builder confidence was put to the test, as August's building permits and housing starts reports were released. Both permits and starts came in much higher than expected, with starts increasing an impressive 12.3 percent during the month against expectations for 5 percent growth. The supply of new homes remains constrained in key markets, so this uptick in development is good news for the housing market.
The FOMC met last Tuesday and Wednesday for its September rate-setting meeting. On Wednesday, the FOMC rate decision lowering the upper bound of the federal funds rate from 2.25 percent to 2 percent was released. Fed Chairman Jerome Powell presented this rate cut as a hedge for the U.S. economy against slowing global trade. Voting members of the FOMC were uncharacteristically split on this vote, with a final tally of seven FOMC participants supporting the cut and three voting against the action. This public disagreement indicates that future rate cuts this year are not guaranteed, despite market expectations for another cut in December.
We finished out the week with Thursday's release of August's existing home sales report, which came in stronger than expected. Sales rose by 1.3 percent during the month, against expectations for a 0.7 percent decline. This marks the second straight month of growth in existing home sales and, perhaps even more important, the second straight month of year-over-year growth in existing home sales. This year-over-year growth is notable because we had experienced 17 straight months of year-over-year declines in existing home sales until July's results broke the trend. This continued growth in year-over-year home sales, combined with increasing home builder confidence and building activity, indicates that the housing sector may finally be turning around after a couple of disappointing years.
What to look forward to
We'll start the week with Tuesday's release of the Conference Board Consumer Confidence Index. It is set to decline from 135.1 in August to 133 in September. A spike in gas prices midmonth due to the disruption of Saudi Arabian oil production is expected to weigh on consumer confidence. Despite the anticipated decline for the index, confidence remains near post-recession highs, as equity markets have recovered from August's volatility nicely and the job market remains healthy. High confidence levels support continued consumer spending, so this will be an important update to monitor for any weakness.
On Wednesday, August's new home sales report will be released. New home sales are forecast to increase by 3.3 percent in August, following a 12.8 percent decline in July. Historically, new home sales have been much more volatile than existing home sales, as new homes make up a much smaller portion of the market. A rebound in new home sales following July's decline would be welcome and unsurprising given the better-than-expected housing data we've already seen in August.
On Friday, August's personal income and personal spending reports are set to be released. Economists expect income to rise by 0.4 percent during the month. Spending is set to grow by 0.3 percent, following a 0.6 percent increase in July. Consumer spending has been the major driver of economic growth for much of the year, so continued strength in August's income and spending figures would bode well for overall third-quarter growth.
Also on Friday, August's durable goods orders report is set to be released. Here, economists expect a 1.2 percent decline in August, following a 2 percent increase in July. While the projected headline decline is disappointing, it would be due in large part to an expected drop-off in aircraft orders following the continued grounding of the Boeing 737 MAX. The core durable goods figure, which strips out the impact of volatile transportation orders, is set to increase by 0.2 percent.
That's it for this week—thanks for reading!