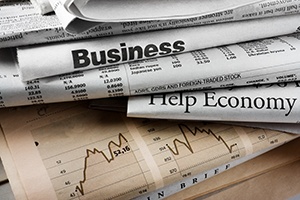 Last week's data was generally positive. Housing continues to strengthen; although strong demand has reduced inventories of existing homes, new home sales have started to pick up the slack. On the business front, capital spending continues to improve, although not as quickly as had been hoped. Overall, it was a strong week, but not one that significantly changes expectations going forward.
A look at last week's data
Last week was light on the data front, with housing and industrial orders taking center stage.
Existing home sales did even worse than expected, down to 5.48 million from 5.69 million and well below expectations of 5.55 million. The positive trend remains intact, however, as year-on-year sales increased by 5.4 percent, and the 6- and 12-month trends hit their highest marks since late 2007. Demand is strong, but supply remains at the lowest level since recordkeeping began 34 years ago and continues to decline, constraining the sales numbers.
New home sales, on the other hand, surprised to the upside, rising to 592,000 from 555,000 and beating expectations of 564,000. This positive report came on improvements in inventory and a shortage of existing homes, as noted above. Long-term trends also continued to improve, and inventories remain tight.
The headline number for durable goods orders came in better than expected, up by 1.7 percent in February over expectations of a 1.4-percent rise. Still, the figure was down from an upwardly revised 2.3 percent the previous month. The upside surprise, though, was based on aircraft orders, which are extremely volatile. The better economic signal is the core orders number, which excludes transportation. It was up by a more modest, but still healthy, 0.4 percent. Though below expectations for a 0.5-percent increase, the previous month was revised up from flat to a gain of 0.2 percent, leaving the overall results aligned with expectations.
The week ahead
This week will be all about the consumer:
On Tuesday, we'll see the Conference Board's Consumer Confidence Survey, which is expected to drop slightly, from 114.8 to 113.4, but remain close to a 15-year high.
On Friday, the personal income and spending report for February will be released. Personal income growth is expected to remain strong, at 0.4 percent, the same as the previous month. Personal spending growth is also expected to remain constant, at 0.2 percent. There may be some downside risk on the spending figure, however, on lower utilities outlays and gasoline prices.
Have a great week!