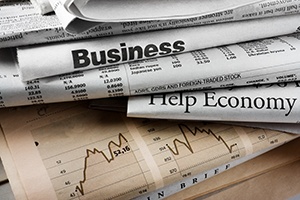 Last week's economic reports were all about housing, and we'll get some insight on the consumer in the week ahead.
Last week's news
On Monday, the National Association of Home Builders released its industry survey for June, which dropped from 70 last month to 68. Given the lack of lots and labor, as well as a surge in lumber prices, this pullback is reasonable. Although the index remains at a healthy level, this is the fifth decline in the past six months, and the index is now at a nine-month low. Given the shortage of supply for homes, demand remains strong. This should continue to support industry confidence but will bear watching.
On Tuesday, the housing starts report revealed some good news. Starts rose from 1.29 million in April to 1.35 million for May—the highest level in 11 years and beating expectations for an increase to 1.31 million. Single-family starts rose by only 3.9 percent, however, and the positive surprise was due to an 11.3-percent increase in multifamily starts. This has been a volatile series; therefore, the great headline number might not be as solid as it looks. Further supporting that worry, building permits declined by 4.6 percent for the month. This result is down to the lowest level since early 2017 and was much worse than expected. While the trend remains higher for both sales and permits, the drop in permits suggests some caution going forward.
The existing home sales report, released on Wednesday, showed further signs of caution. Sales dropped from an upwardly revised 5.46 million in April to 5.43 million, below expectations of an increase to 5.52 million. Low inventories remain a problem, and rising mortgage rates also appear to be crimping demand.
Overall, last week's data suggests that the housing market may be slowing. While conditions remain healthy at the moment, the trends may be changing—and this is worth watching going forward.
What to look forward to
Housing kicks off the week with the new home sales report, which came in better than expected on Monday morning. The annualized monthly sales were up to 689,000 in May from 662,000 in April, substantially beating the expected 667,000 figure. This increased activity suggests housing demand remains healthy.
On Tuesday, the Conference Board will release its consumer confidence survey. It is expected to pull back slightly, from 128 to 127.5, which would still be a very high level. Should the number come in as anticipated, it would indicate that consumer demand is likely to keep growing.
On Wednesday, the durable goods orders report should give the same indicator for business investment. The headline index, which includes transportation and is heavily influenced by aircraft orders, is expected to improve slightly from a very weak decline of 1.6 percent in April to a still weak decline of 1 percent for May, largely on trends in aircraft orders. This volatility is normal for this data series. The core index, which excludes transportation, is expected to do much better, pulling back from monthly growth of 0.9 percent in April to 0.5 percent in May. This result would still be healthy and a good indicator of future growth.
On Friday, the personal income and spending report will give further insight into the consumer. Personal income growth is expected to rise from 0.3 percent in April to 0.4 percent in May. Personal spending growth, on the other hand, is expected to drop back from 0.6 percent in April to a still healthy 0.4 percent in May. We already know that retail spending growth was strong in May, but weaker auto sales may pull the overall figure back a bit. The match in income and spending growth is a good sign for the sustainability of this level of growth.
Have a great week!