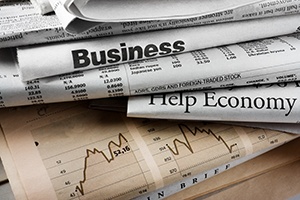 A limited amount of economic data was released last week, but what we did get was generally positive. The housing sector continues to post solid growth, and the Federal Reserve minutes showed confidence in the recovery. Housing is a key indicator of consumer confidence, and ongoing strong results suggest that the recovery continues.
A look at last week's news
Housing takes center stage. Existing home sales surprised substantially to the upside, increasing from an upwardly revised 5.51 million to 5.69 million in January—much better than both the previous month and expectations of an increase to 5.55 million. This is the highest level since February 2007, suggesting that consumers are shrugging off higher mortgage rates.
New home sales also improved substantially, from 536,000 to 555,000, but did not meet expectations for a larger increase to 575,000. That said, this was the biggest gain in six months, and the 12-month trend hit its highest level since August 2008. Despite the month-on-month disappointment, the absolute number remains strong.
Fed eyes March hike. The other significant piece of economic news last week was the release of the minutes from the last meeting of the Federal Open Market Committee. Of note, many members expect to raise rates fairly soon, suggesting that a rate hike at the March meeting is quite possible. Although markets remain unconvinced, the odds of a March increase have risen, and the minutes were widely seen as optimistic about the future of the economy.
The week ahead
This week will give us a much wider range of data to test that theory.
Durable goods orders for January were released today, with the headline number up by 1.8 percent, a strong result, and somewhat above expectations of 1.6 percent. This bump was due primarily to aircraft orders, however. The core index, excluding transportation, was down by 0.2 percent, well below expectations of a 0.5-percent gain, with capital goods orders down even more, dropping by 0.4 percent. Although weaker than expected, this result is most likely a pullback from previous strong performance, and three-month gains remain very strong.
On Tuesday, the Conference Board will release its survey of consumer confidence for February, with expectations for a small drop from 111.8 to 111.0. This would leave the index close to multiyear highs and at a very strong level that would support continued spending growth.
On Wednesday, the personal income and spending report for January will offer a look at whether the American consumer's actions match the surveys. Expectations are for income growth to remain steady, at a strong 0.3 percent for the month. Spending growth, on the other hand, is expected to moderate down from 0.5 percent in December to 0.3 percent on declines in car sales and utility spending. If so, this would still be a reasonably healthy result and, by matching the growth in income, would also be sustainable.
Business confidence will be reported on Wednesday, with the ISM Manufacturing survey for February, which is expected to remain in moderately strong expansion territory at 56, the same as the previous month, on continued strength in regional surveys. On Friday, the ISM Non-Manufacturing survey is expected to show a slight drop from 56.5 to 56.4, also leaving it solidly in expansion territory. Continued business confidence would raise the chances of faster business investment, suggesting that durable goods orders are more likely to bounce next month.
Have a great week!