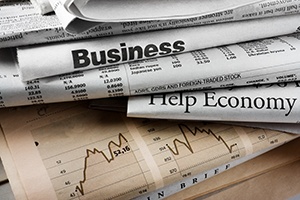 Last week was all about housing, and the news was mixed. Although industry sentiment showed a surprising drop, actual activity came in stronger than expected. Overall, the data probably shades to the good side, but housing bears watching going forward.
Last week's data
On Tuesday, the National Association of Home Builders industry confidence survey dropped to 64 for July, which was from a downwardly revised 66 in June and well below the expected 67. This is the lowest reading since last November, resulting from rising concerns about materials prices, which are pushing costs and prices up and eroding affordability. It should be noted that 64 remains a reasonably high level of confidence, not that far off the 12-year high of 71 from March of this year. Still, the decline suggests the mood might be changing, which would be a negative sign for the industry.
On the other hand, housing starts, which were released on Wednesday, indicated a growing industry. They rose from 1.092 million in May to 1.215 million in June, well above expectations of 1.16 million. This is a substantial rebound from a drop in May and occurred despite downside risk, as building permit issuance had recently dropped. The significant bounce back is a positive indicator for the economy as a whole, particularly since building permits also rebounded and beat expectations. Further, it suggests actual activity remains strong, despite the drop in industry confidence.
What to look forward to
This week, we get more housing market data, with reports on sales of existing and new homes. Plus, we'll learn about consumer confidence, industry and business confidence, and the growth of the economy as a whole.
Sales of existing homes for June were reported on Monday. They dropped from 5.62 million in May to 5.52 million, although expectations were for sales to remain steady at 5.62 million. Given the lack of available inventory, however, there was certainly downside risk, which seems to have come through. So, while sales declined, it was likely due to a lack of supply, not to a lack of demand. This should limit concerns regarding the shortfall.
New home sales, released on Wednesday, are expected to do better, with a small uptick from 610,000 to 615,000. Here, strong demand, combined with a better available level of inventory, suggests there may be some upside. Strong sales of new homes would be a positive signal for the economy.
The Conference Board survey of consumer confidence, released on Tuesday, is expected to drop somewhat, from a very high level of 119.9 down to 116.0, which is still healthy. This pullback would mirror declines in other surveys. Interestingly, while current confidence remains quite high, future expectations have declined, pulling down the index. The change in trend is worth watching.
The durable goods orders report, released on Thursday, is expected to be quite strong. The headline number, which includes commercial aircraft, is expected to improve from a 0.8-percent decline in May to a 3-percent increase in June on strong aircraft orders from Boeing. The core orders index, which excludes transport, is also expected to improve, moving from a gain of 0.3 percent in May to a gain of 0.5 percent in June. The core number is a better indicator and suggests business confidence and investment continue to improve. This would also be a good sign for the economy.
Finally, the first estimate of economic growth for the second quarter will be released on Friday. Gross domestic product growth is expected to be 2.5 percent, well above the first quarter's 1.4 percent, with the gain coming from faster growth in consumer spending. Despite some apparent weakness in business investment, there is upside to this estimate as well. If the number comes in as expected, it will demonstrate that the recovery continues and economic conditions remain solid.
Have a great week!