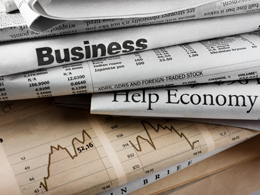 Last week's wide-ranging data started to give us an idea of whether economic growth (and perhaps even faster growth) continues.
A look at last week's news
The week started with the personal income and spending report, released on Monday:
Personal spending increased by a strong 0.5 percent in September, up from the prior month's downwardly revised drop of 0.1 percent and slightly above expectations of a 0.4-percent gain.
Personal income, on the other hand, rose only 0.3 percent, better than the previous month's 0.2 percent but below expectations of a 0.4-percent increase.
Both of these figures suggest continued growth, and with savings and employment trends where they are, that growth looks to be sustainable.
We also got moderately encouraging news from the ISM Manufacturing Index on Tuesday. The index rose to 51.9, above expectations for it to remain stable at 51.5, signaling continued slow but positive growth. This is a three-month high, which suggests the trend is now shifting to positive, as does the fact that 10 of 18 sectors reported growth. A particular highlight was the increase in the employment index to a 16-month high, which may well signal further job growth.
On the other hand, the ISM Non-Manufacturing Index, released on Wednesday, was less encouraging. The index dropped to 54.8, well below an expected smaller drop to 56.0 from the prior month's level of 57.1. Although this is still a strong level and consistent with continued growth, it suggests the positive trend here may be moderating. Nonetheless, this index level suggests that ongoing growth at least at current levels is likely.
On Friday, the international trade report showed that the U.S. trade deficit improved substantially, dropping to $36.4 billion from a revised $40.5 billion in August, which was much better than expectations of a slight decline. Trade remains a relative bright spot for the economy and may continue to help fourth-quarter growth.
Last week's most important economic news was the jobs report, also released on Friday.
Job growth rose from 156,000 to 161,000, below expectations of 173,000, and the unemployment rate dipped to 4.9 percent from 5.0 percent, as expected.
The good news was that previous months were revised up by a total of 44,000 jobs, more than making up for the shortfall in the headline number.
Wage growth surged from 0.2 percent to 0.4 percent, beating expectations and taking the year-on-year growth rate up to 2.8 percent, a nine-year high.
Overall, this was another very strong report and signals continued growth, with the possibility of further acceleration. The encouraging report also reinforces the case for the Federal Reserve's probable rate increase in December. As expected, there was no real news out of last week's regular Fed meeting, but the statement did nothing to discourage market expectations that December is likely to be a go for a rate hike.
The week ahead
The big news this week, of course, is tomorrow's presidential election.
Economic releases will be minimal, with only the University of Michigan consumer confidence survey scheduled for Friday. With the uncertainty around the election, expectations are for a stable result, although there may be some upside risk on continuing strong job gains.
Have a great week!