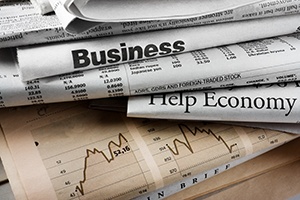 Last week was relatively quiet on the economic update front, with only two major data releases. This figures to be a much busier week, with a focus on consumers and housing.
Last week's news
Last week got off to a rocky start, with a disappointing result from July's ISM Nonmanufacturing index. This survey, which measures business confidence for the service sector of the economy, fell from 55.1 in June to 53.7 in July, against expectations for a modest increase. This decline brought the index to its lowest level since August 2016, as even the service side of the economy is feeling pressure from a slowdown in global trade amid the ongoing trade wars. This is a diffusion index, where values above 50 indicate expansion. So, business owners still expect to see growth, but the slowdown in confidence should be monitored.
On Friday, July's Producer Price Index was released. Producer inflation rose by the expected 0.2 percent during the month, keeping year-over-year inflation flat at 1.7 percent. Interestingly, core inflation, which strips out the effect of volatile food and energy prices, decreased by 0.1 percent during the month. This was the first decline in core producer prices in two years, and it brought year-over-year growth for core producer inflation down to 2.1 percent.
What to look forward to
This week will begin with Tuesday's release of the Consumer Price Index for July. Consumer prices are expected to show 0.3 percent growth for the month, which should bring year-over-year inflation up to 1.7 percent. As was the case with producer prices, the core measure of consumer inflation is expected to show 2.1 percent year-over-year growth, which is broadly in line with the Fed's stated 2 percent inflation target.
On Thursday, July's retail sales report will be released. It is expected to show solid 0.3 percent monthly growth. Strong consumer spending was a major driver for second-quarter GDP growth, so continued strength to start the third quarter would be a positive sign for overall growth.
Also on Thursday, July's industrial production report is set to be released. Economists expect production to increase by 0.1 percent on a month-over-month basis, which would be a step up from June's flat result.
Additionally on Thursday, we'll see the release of the August National Association of Home Builders Housing Market Index, which is a gauge of home builder sentiment. Home builder confidence is expected to increase slightly, from 65 in July to 66 in August. Confidence rose in July following a surprise decline in June, so another increase in August would be welcome.
On Friday, we'll see if improved home builder confidence in July translated to more home building, as July's housing starts and building permits are both set to be released. Both measures of new home building activity are expected to show modest growth in July following declines in June.
Finally, we'll finish off the week with Friday's release of the University of Michigan consumer sentiment survey. It is expected to decline from 98.4 in July to 97.4 in August. Stock market turbulence often weighs on consumer comfort, so we shouldn't be surprised that economists expect the recent market volatility to affect consumer confidence. Despite the projected decline, we're still well above levels seen in January and February. As such, there is nothing yet to worry about.
That's it for this week—thanks for reading!