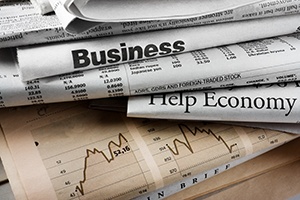 Last week was relatively quiet in terms of economic news, with only two major releases scheduled during the holiday-shortened week. The week ahead will be much busier, as we continue to see the release of data that was delayed by the government shutdown.
Last week's news
On Wednesday, the minutes from the Federal Reserve's January meeting were released. The Fed decided to keep rates unchanged in January, and the released statement removed language that spoke of future gradual rate hikes. The minutes from the meeting were generally dovish as well, noting that the switch to a patient stance was in response to both slowing global growth and an absence of inflationary pressures. Markets noted, however, that several members remained positive about another rate hike this year, which was somewhat more hawkish than had been expected.
On Thursday, December's delayed durable goods orders were released, and they were weaker than expected. The headline index rose 1.2 percent, well below the expected 1.7 percent, although this was partially offset by a 0.3-percent upward revision to the prior month. Much of this revision was driven by a large increase in aircraft orders for Boeing in December, however. The core index, which strips out volatile transportation orders, showed even slower growth, up by just 0.1 percent, below the expected 0.3 percent. Here, too, the weakness was offset by upward revisions to the prior month, but the trend remains weak.
What to look forward to
On Tuesday, December's housing starts are set to be released. Economists expect starts to decline slightly, from 1,256,000 in November to 1,250,000. Homebuilder confidence declined sharply in December, so it is possible that housing starts may decline by more than expected. But homebuilder confidence has rebounded to start the year, so any weakness in housing starts would likely be temporary.
On Thursday, the first estimate of fourth-quarter GDP growth will be released. This measure of overall economic activity is expected to show solid 2.5-percent growth on an annualized basis. This result would be down from the 3.4-percent annualized rate we saw in the third quarter. The slowdown in the fourth quarter was partially driven by a slowdown in consumer spending at year-end, as December's retail sales suffered the biggest monthly drop since 2009. As was the case with homebuilders, consumers saw a large drop in confidence in December that likely lowered spending. Consumer confidence numbers have also bounced back to start the year, so this slowdown in consumer spending is likely not as bad as feared.
Speaking of consumer spending, on Friday, we will see the release of January's personal income report and December's personal spending report. Both are expected to show moderate growth—with income expected to increase 0.3 percent and spending slated to rise by 0.2 percent. These would be solid results; however, both income and spending were growing at faster rates in the third quarter.
Finally, also on Friday, the Institute for Supply Management Manufacturing index is expected to decline slightly, from 56.6 in January to 56 in February. This is a diffusion index, where results greater than 50 indicate expansion. As such, this slight decline is not a pressing concern. Continued trade talks with China have helped bolster manufacturer confidence in the face of slowing global trade, so this continued positive sentiment is very welcome.
Thanks for reading and have a great week!