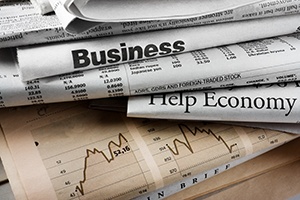 Last week's economic news focused on the Fed and tariffs. This week, there are only two major reports, but each will give us a look at the all-important consumer.
Last week's news
Last week started with the regular meeting and press conference from the Federal Open Market Committee. On Wednesday, the Fed released its statement for the March meeting. As expected, it raised interest rates by 25 basis points. Both the statement and the press conference suggested between three and four more rate hikes will be coming this year, which was at the high end of market expectations.
Housing was another focus last week. On Wednesday, the existing home sales report did better than expected, as sales rose from 5.38 million in January to 5.54 million in February—above the expected 5.43 million. This is a positive number but still only a partial recovery after a significant decline. On Friday, the new home sales report also showed a gain, from 593,000 in January to 618,000 in February. This result was slightly below expectations but, again, only a partial recovery after a significant decline. While the gains are constructive, in light of past data, these reports suggest the housing sector may be slowing.
Finally, on Friday, the durable goods orders report also beat expectations. The headline index, which includes transportation, recovered from a monthly drop of 3.6 percent in January to a gain of 3.1 percent in February. This was well above expectations of a 1.6-percent gain, on a recovery in the extremely volatile aircraft orders segment. The core orders report, which excludes transportation and is a better indicator for the general economy, also did much better than expected. It rose 1.2 percent for February after a decline of 0.3 percent in January, beating the expected gain of 0.5 percent. The strong core results suggest business investment is not slowing as much as earlier data had suggested and may in fact be rebounding.
The other significant economic news last week was the announcement of tariffs on Chinese goods, which rocked markets on Thursday and Friday. While the initial economic impact of the tariffs looked to be small, markets dropped on fears of a trade war as China openly threatened retaliation. As with the earlier round of tariffs on steel and aluminum, the actual impact is likely to be less than initially suggested, but market concerns and uncertainty have been increased.
What to look forward to
On Tuesday, the Conference Board will release its Consumer Confidence Index. The index is expected to rise from 130.8 in February to 131 in March, as the effects of the tax cuts continue to show up in paychecks. Although recent stock market turbulence may weaken confidence eventually, this survey was taken before last week's declines, so it should not be affected. If the number comes in as expected, this would be a positive signal for the economy.
On Thursday, the personal income and spending report will be released. Personal income growth is expected to remain steady at a strong 0.4 percent for February, supported by continued employment growth and slow but steady wage growth. Personal spending growth is expected to tick down from 0.2 percent in January to 0.1 percent for February. Any decline would be due to a weather-related drop in utilities spending and a decline in gas prices, making this number better than it seems.
Have a great week!