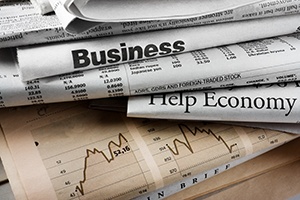 Last week was very quiet on the economic update front, with only the release of December's existing home sales report during the holiday week. This week will be quite another story, with six major releases scheduled. Highlights include both major consumer confidence surveys, as well as the first look at fourth-quarter GDP growth.
Last week's news
On Wednesday, December's existing home sales report was released. Sales came in higher than predicted, rising 3.6 percent against calls for 1.5 percent growth. The pace of new home sales is now at its highest reported level since February 2018, as low mortgage rates and high consumer confidence levels have drawn more buyers into the market. The housing sector staged a very impressive rebound in the second half of 2019, after slowing in late 2018, and December's results point toward further growth in 2020. But the supply of existing homes has declined for seven straight months and is down 8.5 percent from a year ago. So, low supply will likely become a headwind for growth in the sector.
What to look forward to
We started off the week with Monday's release of the December new home sales report. Sales came in lower than predicted, falling 0.4 percent during the month against expectations for a 1.5 percent increase. New home sales are a relatively small portion of overall sales, however, and the results can often be more volatile than existing home sales on a monthly basis. So, despite the disappointing result, if we look at longer-term trends, new home sales are continuing to exhibit strong growth. Growth in year-over-year sales was up to 23.7 percent compared to December 2018. As for the supply of new homes on the market, this factor remains constrained. But the uptick in construction we've seen recently could help fuel sales growth as more homes become available for purchase. Given the strength in year-over-year growth and the potential tailwinds from new construction, the disappointing monthly result is nothing to be worried about for the time being.
On Tuesday, December's durable goods orders report will be released. Durable goods orders are expected to increase by 1.2 percent, following a surprising decline of 2.1 percent in November. November's results were caused by a sharp drop in volatile defensive aircraft orders, so a return to growth would help calm concerns of a prolonged slowdown in headline orders. Core orders, which strip out the impact of volatile transportation orders, are expected to show healthy 0.4 percent growth, following a 0.1 percent decline in November. Core orders are often seen as a proxy for business investment, so a return to growth here would be positive. It could signal a turnaround for business investment as we head into the new year.
Tuesday will also see the release of the Conference Board Consumer Confidence Index for January. It is set to increase to 128 in January, up from 126.5 in December. With confidence virtually unchanged in the fourth quarter, a return to growth would be a positive development, given that rising consumer confidence supports faster consumer spending. But even if we get an increase, the index would still sit below 2019's high-water mark of 135.8. We have some ways to go before confidence is restored to the recent highs. With that being said, markets continue to set new highs, housing prices continue to increase, and jobs remain plentiful, so there is every reason to believe that confidence can recover.
On Thursday, the first estimate of fourth-quarter GDP growth will be released. Economist are calling for results showing faster growth. Will the economy expand at a 2.2 percent annualized rate, up from 2.1 percent in the third quarter? This result would be lower than the 3.2 percent growth rate we saw in the first quarter of 2019, but in line with the overall pace of growth for last year. Personal consumption, the major driver of economic growth in the second and third quarters, is expected to grow at an annualized rate of 2.3 percent during the fourth quarter, down from 3.2 percent in the third quarter. Given the importance of consumer spending to midyear expansion, GDP growth will bear watching as we kick off the new year.
Friday will see the release of December's personal income and personal spending reports. Economists expect to see both income and spending grow by a healthy 0.3 percent during the month, to cap off a solid year of growth. If the estimates prove accurate, December would mark the 10th straight month with increased personal spending. Spending grew at a similar rate throughout most of 2019, which indicates it was well supported by increasing incomes.
Finally, we'll finish the week with Friday's release of the second and final estimate of the University of Michigan consumer confidence survey for January. The first estimate showed confidence declining slightly from 99.3 in December to 99.1 in January. Economists expect a further modest decline, to 99, for the second estimate. But the index still sits well above the three-year low of 89.9 it hit in August, so there is no immediate cause for concern. Nonetheless, consumer confidence will be an important indicator to watch going forward, given the relationship between confidence and spending.
That's it for this week—thanks for reading!