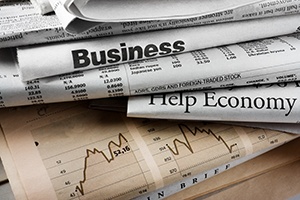 Last week was slow on the economic update front, with only two major updates being released. This week will also be quiet as we finish 2019 and enter the new year. We'll be focusing on consumer and manufacturer confidence, as well as the minutes from the most recent Fed meeting in December.
Last week's news
We started the week with Monday's release of November's durable goods orders report, which came in worse than expected. Durable goods orders fell by 2 percent during the month against expectations for 1.5 percent growth. Much of the weakness in headline orders can be attributed to a slowdown in volatile defensive aircraft orders, which were down significantly. Core durable goods orders, which strip out the impact of transportation orders, were flat. Core durable goods orders are often used as a proxy for business investment, so the flat month was a silver lining in an otherwise disappointing release.
Also on Monday, November's new home sales report was released. New home sales increased by 1.3 percent during the month, which beat expectations for a modest 0.1 percent decline. Sales increased in the Northeast and West but remained flat in the Midwest and declined in the South. This result left new home sales at its third-highest monthly level since 2007. On a year-over-year basis, new home sales are up more than 18 percent, highlighting the rebound in the housing sector we've seen this year.
What to look forward to
On Tuesday, the Conference Board Consumer Confidence Index is set to be released. Consumer confidence is expected to increase from 125.5 in November to 128 in December. If the estimates are accurate, the index would hit its highest level since August, offsetting a surprising drop to a five-month low in November. With equity markets setting all-time highs during the month and November's jobs report coming in above predictions, it's not surprising that consumer confidence is expected to increase. Still, such a result would be quite welcome, as increasing consumer confidence helps support faster spending growth. A rebound in confidence in December would bode well for consumer spending data for the holiday season.
On Friday, the ISM Manufacturing index for December will be released. This measure of manufacturer confidence is expected to increase slightly from 48.1 in November to 49 in December. This is a diffusion index, where values below 50 indicate contraction, so, although the anticipated increase is welcome, it would still leave the manufacturing sector in a recessionary state. Trade-related uncertainty continues to weigh on manufacturer confidence. Additional progress between the U.S. and China on trade negotiations could help calm concerns and bring the index back to expansionary territory.
Friday will also see the release of the minutes from the December FOMC meeting. The Fed decided to leave rates unchanged at this meeting, breaking a streak of three straight meetings with a rate cut. Fed Chairman Jerome Powell indicated at his post-meeting press conference that the Fed will likely leave rates unchanged for the foreseeable future, unless material risks to economic expansion emerge. Economists will be looking at the minutes to see how other Fed governors view the current expansion and what risks they are monitoring. Others will be interested in comments regarding the Fed's ongoing actions in the overnight repurchase market. The Fed has been providing liquidity to this market since September, so market participants will be looking for clarity as to the Fed's plans as we enter the new year.
That's it for this week—thanks for reading. Happy New Year!