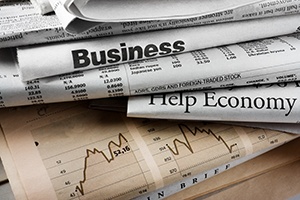 Last week gave us a broad look at the economy, including housing, consumer confidence, business investment, and personal income and spending. Some weakness was apparent, but this seems to be due in large part to hurricanes Harvey and Irma and may therefore be short lived. With the exception of new home development, where the market appears to have normalized as supply and demand are close to normal levels, the overall news was good. This week's data is certainly worth watching but—given the storm effects—not worth giving excessive weight to.
Last week's news
New home sales, released on Tuesday, were disappointing. They dropped to 560,000 in August from an upwardly revised 580,000 in July, the second monthly decline in a row. Sales have rolled over in recent months and are now below longer-term trends. The weakness was widespread, down in three of four regions, while new home inventory continued to rise. Overall, this report suggests the weakness was not due to the hurricanes but to a rebalancing of the market.
Also on Tuesday, the Conference Board survey of consumer confidence was released, with confidence dipping slightly from a very strong 122.5 in August to 119.8 in September. This result was slightly better than expectations of 119.5. Despite the pullback, confidence remains at a high level on an absolute basis, and the longer-term average is close to the highest level since 2001. A substantial rise in gas prices, due to the hurricanes, weighed on confidence this month, but that drop may be temporary as price gains are starting to reverse.
Durable goods orders were released on Wednesday. They bounced back at the headline level, gaining 1.7 percent in August. This result was up from a drop of 6.8 percent in July and above expectations for a gain of 0.9 percent on a rebound in commercial aircraft orders. The core orders, which exclude transportation, are a better economic indicator. They rose 0.2 percent in September, as expected, but were down from a 0.6-percent gain in August—still a healthy level despite the effects of the hurricanes. More encouraging, core business orders rose 0.9 percent and have been up in six of the past eight months, suggesting business investment growth continues to be strong. Overall, this was a positive report.
On Thursday, the final estimate of economic growth for the second quarter was 3.1 percent, up slightly from the last estimate of 3 percent. While this is a backward-looking number, the small upward revision suggests conditions were indeed solid heading into this quarter.
Finally, the personal income and spending report on Friday showed mixed results. Income rose by 0.2 percent in August, down from a downwardly revised 0.3 percent in July. Spending growth dropped from 0.3 percent in July to 0.1 percent in August. Both were in line with expectations. The decline appears to be due largely to the hurricanes, as employment and wages were directly affected, as were retail sales. While this weakness is worth watching, it is likely to reverse in subsequent months.
What to look forward to
This week's economic data is all about business. We should get a sense of whether the high levels of business confidence survived the hurricanes, as well as how the storms affected hiring.
On Monday, the Institute of Supply Management (ISM) released the Manufacturing survey. It rose from 58.8 in August to 60.8 for September, strongly beating expectations of 58.1. This is a diffusion index, with numbers greater than 50 indicating growth, so this result indicates strong growth. In fact, the survey is at a 13-year high, up from the 6-year high reached in August. With regional manufacturing surveys also increasing, this strong number suggests that the hurricanes have not significantly affected the manufacturing sector.
On Wednesday, the ISM will release its Nonmanufacturing survey, which is expected to improve from 55.3 in August to 57 in September. As with the manufacturing survey, if the index comes in as expected, this would signal continued strong business confidence, despite the storms.
Finally, on Friday, the employment report is expected to drop sharply. Job growth is expected to decline from 156,000 in August to 88,000 in September, while the unemployment rate remains constant at 4.4 percent. Wage growth is expected to pick up from a 0.1-percent gain in August to a 0.3-percent gain in September. If the job gains drop while unemployment and wage growth meet expectations, the effects would presumably be due to the storms. In any event, markets will take any change in the report with a grain of salt. Past storms have produced similar results, so any decline would be grounds for watchfulness, but not serious concern.
Have a great week!