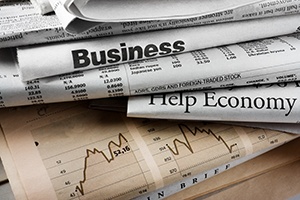 Last week's data included news from across the economy. Overall, the signals remained positive, despite some weakening in several areas.
Last week's news
On Wednesday, the industrial production report did much better than expected. Growth ticked up from a downwardly revised decline of 0.1 percent in December to 0.9 percent in January. This result was well above expectations of 0.5-percent growth and can be attributed to increased oil drilling and utility production. Manufacturing growth, on the other hand, ticked down from 0.2 percent in November to 0.1 percent in December, below expectations of an increase to 0.3-percent growth. Despite the weak month, the fourth quarter was the strongest in seven years, and the overall trend remains positive.
Also on Wednesday, the National Association of Home Builders survey of home builder confidence dropped slightly, as expected. It went from 74 in November, which was close to a 19-year high, to a still very strong 72, as demand for housing remains strong and prices continue to rise. Housing starts, released on Thursday, dropped back by more than expected. They were down to 1.192 million in December from 1.297 million in November, against expectations of a smaller decline to 1.275 million. The pullback comes after two very strong monthly increases, however, and appears to be due to shortages of labor, land, and materials, rather than lack of demand.
Finally, on Friday, the University of Michigan consumer confidence survey also disappointed. It dropped from 95.9 in December to 94.4 in January, below expectations of an increase to 97. The record stock market and strong job growth were expected to drive confidence higher, but rising gas prices may have pulled it down. But even with the decline, this confidence level has historically indicated continued growth.
What to look forward to
The news this week is that there may be no economic news. With the government now in the third day of a shutdown, release of economic data may be postponed until a later date. If the government reopens quickly, however, there will be two economic releases this week, both on Friday.
The first estimate of economic growth in the fourth quarter is expected to tick down from a very strong 3.2 percent to a still healthy 2.9 percent. The mix of growth should be strong, with consumer spending up around 4 percent and business investment rising at a double-digit pace, annualized. Government spending is also expected to rise at the state and local levels. Headwinds are expected to include imports growing faster than exports, which would make trade a net drag on growth.
The durable goods report is also expected to pull back a bit at the headline level, but the core figures should improve substantially. The headline number, which includes transportation, can be quite volatile. It is expected to drop from 1.3-percent growth to 0.9-percent growth on a seasonally adjusted decline in aircraft orders. The core figure, which excludes transportation, is expected to rise from a decline of 0.1 percent to 0.7-percent growth. This increase would reflect faster business investment growth and would be a positive sign for the economy.
Have a great week!