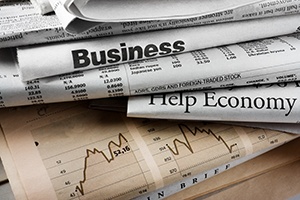 With the Thanksgiving holiday, last week was a relatively slow and short one in terms of economic data. Let's jump right in.
Last week's news
On Tuesday, existing home sales came in better than expected, increasing to 5.48 million in October from a downwardly revised 5.37 million in September. This is the largest increase in seven months, which is positive. It is still below year-ago levels, however, due largely to weakness in the South—an area still being affected by the hurricanes. Lack of supply continues to be an issue, and there are signs that affordability is now becoming more of one. But the overall level of sales remains healthy, and this was a positive economic signal.
Durable goods orders, which came in on Wednesday, did well overall. The headline figure dropped from growth of 2 percent in September to a decline of 1.2 percent in October. This was due to a spike and decline in aircraft orders, which are extremely volatile. The core figure, which excludes transportation, did much better; it was up 0.4 percent for October, as expected. This result was down from a 0.7-percent gain in September, again largely due to hurricane effects. Still, it remains at a very healthy level and signals continued growth in business investment.
Finally, the Federal Open Market Committee released the minutes from its November 1 meeting on Wednesday. A December rate hike looks very likely, as markets are expecting. Otherwise, the minutes offered little new information. As such, they had little impact on the markets, leaving overall expectations intact.
What to look forward to
This week, we'll get a detailed look at the consumer, as well as sentiment at manufacturing companies.
On Tuesday, the Conference Board will release its confidence survey. The reading is expected to pull back a bit from a 16-year high of 125.9 in October to a still very high 124 in November. Strong job and stock markets should keep the index high, but rising gas prices may temper results. Even with the expected pullback, confidence is unusually high, and consumers are feeling very good. This is consistent with faster growth.
On Thursday, the personal income and spending reports will show whether consumers' behavior is in line with confidence levels. Personal income growth is expected to pull back slightly, from a strong 0.4 percent in September to a still healthy 0.3 percent in October. Faster job growth in the aftermath of the hurricanes was offset by slower wage growth, so there may be some downside risk here. Personal spending growth also is expected to pull back from a 1-percent gain in September—when vehicle sales and rising gas prices buoyed growth—to a healthy gain of 0.3 percent in October. If the data comes in as expected, this will be a positive result for consumers, who represent the largest part of the economy.
Finally, on Friday, the Institute for Supply Management's survey of manufacturing businesses is likewise expected to pull back from October's seven-year high of 58.7 to 58.4. This is a diffusion index, where numbers above 50 indicate expansion. So, even with a small pullback, this index would still suggest strong growth. With declines in similar surveys, there may be more downside risk here, but the indicator would still be quite positive even with a larger pullback.
Although there may be some weakening of the data this week, it will be from very high levels and so nothing to worry about. Overall, this week's data should keep pointing toward economic growth.
Have a great week!