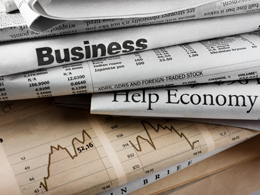 Last week's data was surprisingly positive, with both retail sales and consumer confidence beating expectations substantially, accompanied by upward revisions to past months. As consumers account for about two-thirds of the U.S. economy, this is extremely positive news. Combined with the generally positive results from the previous week, these numbers continue to support a second-quarter recovery in growth.
A look at last week's news
Consumers spending again. Retail sales for April came in much better than expected, with a massive bounce back after several months of weakness.
The headline retail sales number was up by 1.3 percent, well above expectations for a strong 0.8-percent gain.
Stripping out the more volatile components, including gas, autos, and building supplies, core sales increased by 0.9 percent, the most in two years, tripling expectations for a 0.3-percent gain. Research firm Capital Economics called the increase in core sales "almost unbelievable."
Both February and March sales were revised upward, bringing the three month-on-three month growth level up to almost 4 percent, from 2.8 percent.
These significant improvements suggest the American consumer isn't dead just yet. They also add to evidence that growth in the first quarter may have been better than the initial estimate suggested—and that the second quarter is likely to be better yet.
Confidence recovers. The second major release last week also showed a significant improvement. The University of Michigan survey, one of the two major consumer confidence indices, rose from 89.0 to 95.8, reversing several months of declines and returning to an 11-month high. Confidence rebounded despite an increase in gas prices, a sign that the recovery is solid. Expectations moved up by even more, also suggesting an acceleration in growth.
The week ahead
A much wider range of data will be reported this week.
Housing. The National Association of Home Builders survey comes out today, followed by housing starts on Tuesday and existing home sales on Friday. All are expected to improve slightly.
The NAHB survey is expected to rise from 58 to 59.
Housing starts are expected to increase from 1.089 million to 1.12 million. There is some downside risk here, based on weak building permit data in March, but strong demand should still push the builder sentiment number up.
Existing home sales are expected to rise from 5.33 million to 5.40 million. Although a healthy gain, this would extend a generally flat level of sales over the past year, constrained by a lack of inventory.
Consumer prices. Slated for release on Tuesday, consumer prices are expected to tick up substantially, with the headline number up 0.4 percent for the month and 1.1 percent for the year. Prices increased by 0.1 percent and 0.9 percent the previous month, respectively, illustrating the rising inflation trend.
For core prices, which exclude food and energy, the increase is expected to be more modest, with a 0.2-percent rise for the month (up from 0.1 percent the previous month) and 2.1 percent for the year (down from 2.2 percent). The differences continue to be driven by gasoline prices, which have risen in recent months.
Manufacturing and industry. Also scheduled for release on Tuesday, industrial production data is expected to show a significant rebound, from a decline of 0.6 percent to a gain of 0.3 percent. Manufacturing is expected to rebound as well, from a loss of 0.3 percent to a gain of 0.3 percent.
Meeting expectations would be positive, but there are real downside risks here. Oil drilling has continued to decline, and supply problems stemming from the recent earthquake in Japan have negatively affected manufacturing output. Overall, however, the trends appear positive, as any weakness would come from a moderating decline in oil drilling or a one-time shock from the earthquake, rather than from sustained trouble.
Fed minutes. Finally, the minutes from the last meeting of the Federal Open Market Committee are scheduled for release on Wednesday. Analysts will be looking to see how much, if any, enthusiasm committee members expressed for a June rate hike. Given the generally positive news since then, any hints of a rate increase will be carefully noted.
Have a great week!