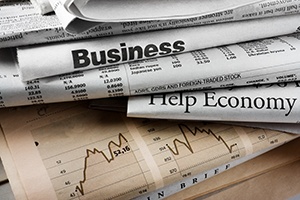 Last week was a very slow one for economic news, although the week ahead will be much busier. So, let's jump right in.
Last week's news
The only major data release last week was the University of Michigan consumer confidence survey. It dropped unexpectedly from the highest level in a decade, at 100.7, down to 97.8, which was worse than expectations for a small pullback to 100. Indeed, the size of the drop was a bit of a surprise. But this index remains at very high levels historically and still suggests continued economic strength.
What to look forward to
This week will be a busy one, with data releases covering the breadth of the economy.
On Wednesday, consumer price data will be released. The headline inflation index is expected to rise 0.1 percent for the month and 2 percent for the year. This is down from the previous month's 0.5-percent monthly increase and reflects the fact that gasoline prices have normalized and refineries have reopened after the hurricanes. Core prices, which exclude energy and food, are expected to increase by 0.2 percent for the month, which is up from 0.1 percent the previous month. The annual change is expected to remain constant at 1.7 percent. If these numbers come in as expected, it would signal more of the same in slow price growth.
Also on Wednesday, retail sales growth is expected to tick down as the post-hurricane surge subsides. The headline number, including autos, is expected to drop from a 1.6-percent gain to a 0.1-percent gain. The core number, excluding autos, is also expected to drop, from a 1-percent gain to a 0.2-percent gain. There may be some downside here, as it's hard to estimate the effects of the hurricanes on retail sales. If the numbers come in as expected, it would indicate a normalization of the trend.
Industrial production will be released on Thursday and is expected to fare better. The headline number is expected to rise to 0.4-percent growth from 0.3 percent, as the oil industry gets back to work. Manufacturing is expected to do even better, rising from 0.1-percent growth to 0.4-percent growth, as companies affected by the storms resume operations. If the numbers come in as expected, they would signal renewed growth in these sectors, and there may be some additional upside as well.
Finally, we'll also get a look at the housing industry. On Thursday, the National Association of Home Builders survey is expected to stay at a strong 68, a six-month high. On Friday, housing starts are expected to rise from 1.127 million to 1.188 million. With building permits down, there is probably some downside risk here. Overall, if the numbers come in as expected, the housing industry looks stable, albeit possibly slowing a bit.
Have a great week!