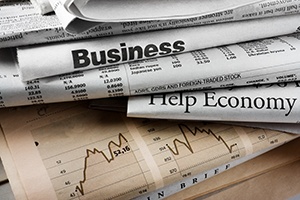 Although consumers remain confident, last week's data showed that neither consumers nor businesses are spending. This weakness raises concerns about whether the expansion will continue to accelerate.
Last week's news
On Monday, May's durable goods orders report was released. The headline index was down by 1.1 percent. This was below expectations of a 0.6-percent decrease and followed a 0.8-percent drop in April. Here, the major factor was a worse-than-expected decline in aircraft orders, which was only partially offset by an improvement in auto orders. Core orders, which exclude transportation, also disappointed, with a 0.1-percent gain in May, less than the expected 0.4 percent. Overall, despite the weakness in transportation, the small rebound in the core figure suggests business investment continues to hold, which will continue to support the economy.
On Tuesday, the Conference Board Consumer Confidence Survey surprised to the upside, rising from 117.9 in May to 118.9 in June. This small gain was reasonable given the various drivers of confidence, such as labor market conditions, gas prices, and a positive stock market. But this index remains below recent highs, and other measures of confidence have also pulled back in recent months. Still, confidence remains at very strong levels, which historically have indicated continued growth.
We got a look at the personal income and spending reports on Friday. Personal income did better than expected, growing by 0.4 percent in May. This result was an improvement on the downwardly revised 0.3 percent in April and faster than the expected 0.3-percent growth. This remains a healthy level of growth, and one that allows for faster spending. Personal spending growth, however, dropped to 0.1 percent in May, as expected, and down from 0.4 percent in April. This came on lower auto sales and a decrease in the price of gasoline. Despite the decrease, there is a point worth noting: with inflation dropping, this figure actually represents a faster rate of growth in real spending, and the decline is less worrisome than it might be. Given high confidence and reasonably fast income growth, as well as the underlying factors, spending growth also remains supportive for the economy.
The week ahead
This week will be a busy one, with data across the economy.
Today, the ISM Manufacturing Index is expected to rise slightly, from 54.9 to 55.0. This is a diffusion index, with numbers above 50 indicating expansion. As such, this would be a healthy result, significantly higher than much of 2015 and 2016. The decline in the dollar and the strengthening of global growth suggest there might be some upside risk here.
On Wednesday, the Federal Open Market Committee will release the minutes of its last meeting. Markets will be looking for hints about the next rate hike, as well as more details about how the Fed plans to shrink its balance sheet. There are unlikely to be surprises here, but insights about how committee members view slowing inflation growth will be particularly interesting.
We'll see the international trade report on Thursday. It is expected to show that the trade deficit narrowed slightly, from $47.6 billion to $46.2 billion, on a modest rise in exports combined with a drop in imports. If this is the case, trade should be roughly neutral for the economy as a whole in the second quarter, down from a modest positive result in the first quarter.
Also on Thursday, the ISM Non-Manufacturing Index is expected to drop back slightly, from 56.9 in May to 56.5 for June, which is still a strong level. While the service sector continues to do well, regional surveys have dropped somewhat, suggesting confidence has pulled back a bit.
Finally, on Friday, the employment report is expected to show a sharp increase in job creation, from 138,000 in May to 180,000 in June. With low jobless claims, lots of openings, and strong survey data, there may be an even higher figure. The unemployment level is expected to remain constant, at the very low level of 4.3 percent. Wage growth, on the other hand, is expected to rise from 0.1 percent in May to 0.2 percent. If it comes in as expected, this would be a strong report.
Have a great week!