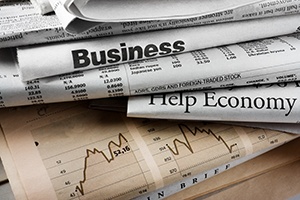 Despite the Christmas holiday, last week brought some important economic news. With another holiday on the horizon, this week won't be as busy, but there are still a couple of economic reports worth paying attention to.
Last week's news
Last Wednesday, the Conference Board Consumer Confidence Index dropped more than expected—from 135.7 to 128.1 (well below the expected 133.6)—on recent stock market turbulence and rising political concerns. This was the biggest downside surprise in more than a year. Most of the decline came in expectations about the future, whereas the current conditions number declined by only 1.1 points, suggesting that while worries are rising, consumers remain confident in the present. Moreover, even with the larger drop, confidence remains at a healthy level and is still supportive of continued growth. That said, this could be a warning sign of weaker conditions ahead.
Also on Wednesday, the new home sales report disappointed, dropping to 544,000 from 553,000, against an expected gain to 575,000. This decline is consistent with weaker homebuilder sentiment surveys recently, as well as other signs of softening in the housing market, and suggests the downtrend continues. It is also a warning sign about future economic growth, as the housing market is often a leading indicator.
What to look forward to
This Thursday, the Institute for Supply Management (ISM) Manufacturing index is expected to decrease slightly, from 59.3 to 58.2. This is a diffusion index, where values above 50 indicate expansion and values below 50 indicate contraction, so the index remains quite strong. There is some downside risk here, on slowing global growth and, more specifically, on recent weakness in industry surveys, based largely on a more expensive dollar. Uncertainty over trade policy remains a headwind as well. Even with a moderate pullback, however, this would remain positive for the economy as a whole.
On Friday, the employment report is expected to show that job growth improved in December to 180,000 after a weak November report of 155,000. This would, nevertheless, be well down from an October surge of 250,000. The unemployment rate is expected to stay at a very low 3.7 percent, and monthly wage growth is expected to tick up a bit, from 0.2 percent in November to 0.3 percent for December. The annual wage growth figure is expected to tick down from 3.1 percent to 3 percent on base effects. If the numbers come in as expected, this would be another healthy report, signaling continued economic growth.
Thanks for reading, and Happy New Year!