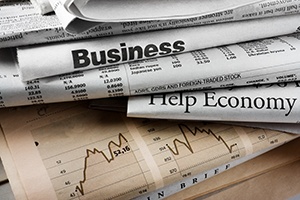 Last week was a busy one on the economic front, given the planned reports plus some of the catch-up reports from the government shutdown. Although the shutdown is now over, several economic reports from previous weeks have not yet been released. It is still undetermined when they will be available, although some releases have started.
Last week's news
On Tuesday, the Conference Board Consumer Confidence Index had another surprise decline. It went from 128.4 to 120.2, which was well below expectations for 124. This drop follows a surprise decline the previous month as well. It appears to be largely on rising concerns about the effects of the government shutdown, as employment growth remains healthy. Although confidence remains at a healthy level (even with the recent declines) and is still supportive of continued growth, this could be a warning sign of weaker conditions ahead.
On Wednesday, the first estimate of economic growth for the fourth quarter of 2018 was due but was not released. Growth in GDP was expected to drop from 3.4 percent in the third quarter to 2.5 percent in the fourth, although there may be some upside risk on strong consumer spending. This report will be released at some point soon, but we do not yet know when.
Also on Wednesday, the meeting of the Federal Open Market Committee concluded and was followed by a press conference. As expected, the Fed held rates steady. But the tone of the statement and conference was largely interpreted as dovish, with the Fed apparently backing off future rate increases and potentially pausing its balance sheet drawdowns. Markets reacted positively.
On Thursday, the personal income and spending report for December was due, although it was not released. Income growth was expected to rise from 0.2 percent in November to 0.5 percent in December on strong job growth. Spending growth was expected to tick down from 0.4 percent in November to 0.3 percent for December, which would still be healthy.
On Friday, the employment report came in much stronger than expected at the headline level. It revealed job growth of 304,000 for January, well above the expected 165,000. An area of concern is that December was revised down from 312,000 to 222,000. But even with this downward revision, the overall level of job growth still exceeded expectations. The unemployment rate rose from 3.9 percent in December to 4 percent for January, likely because of the furloughed federal employees, which had been expected. The job growth number did not include the federal workers currently on furlough, as they were counted as employed, but they did show up in the unemployment index. Wage growth ticked down more than expected, from 0.4 percent for December to 0.1 percent for January, on a monthly basis. Here, the increase on an annual basis also ticked down, going from 3.3 percent to 3.2 percent. Overall, despite the slowdown in wage growth, this is another healthy report and signals continued economic growth.
Finally, also on Friday, the Institute for Supply Management (ISM) Manufacturing index rose from an upwardly revised 54.3 to 56.6 for January. This was well above the expected 54 and comes after a surprise drop to a two-year low in December. This is a diffusion index, where values above 50 indicate expansion and below 50 indicate contraction. So, this index remains healthy. The improvement also suggests that the pullback may be temporary, despite slowing global growth in general, the recent impact of the government shutdown, and uncertainty over trade policy. The bounce back, as well as the absolute level, suggests this report still remains positive for the economy as a whole.
We also saw the following catch-up reports last week:
On Thursday, the November new home sales report was released. It showed an increase from 544,000 in October to 657,000 in November, well above the expected 570,000. Housing development appears to have shifted to lower-cost homes, which seems to have pushed demand back up. This may suggest the housing slowdown might pull back as well.
The November durable goods orders report was released today. For the headline index, which includes the very volatile aircraft sector, growth pulled back slightly from 0.8 percent in October to 0.7 percent in November. This figure was well below an expected increase to 1.5 percent based on increases in orders for planes. The core index also disappointed, at a decline of 0.4 percent for November, although this was largely offset by an upward revision to October's number from a drop of 0.3 percent to flat. Based on this report, business investment continues to moderate but may be close to contraction.
What to look forward to
With the government shutdown over, this week's reports are expected to be available on time.
On Tuesday, the ISM Nonmanufacturing index is expected to pull back slightly, from a very strong 58 to 57.3. This is a diffusion index, where values above 50 indicate expansion and below 50 indicate contraction. So, this would be a very healthy figure, despite the small pullback.
On Wednesday, the international trade report is expected to show the trade deficit improving slightly, from $55.5 billion to $54 billion. This report is unusual, as it will reflect delayed data from November due to the shutdown. Based on already-reported results from other countries, however, there may be significant downside risk to this number. If so, this will be a headwind to fourth-quarter growth.
Have a great week!