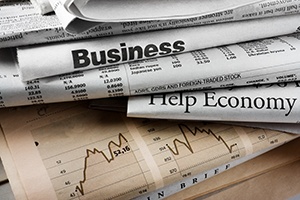 Today's post is from Sam Millette, a fixed income analyst on Commonwealth's Investment Management and Research team.
Last week's major economic releases were focused mainly on housing and consumers. The news was a mixed bag for both. This week will be relatively quiet, with only two major data releases.
Last week's news
On Wednesday, retail sales data for July was released. This measure of consumer spending came in much better than expected, showing 0.5-percent monthly growth against expectations for 0.1-percent growth. This surprise to the upside for the headline figure was also supported by solid 0.5-percent growth in the core retail sales figure, which does not include volatile auto and gas purchases.
One of the major factors behind this strong growth rate was the annual Amazon Prime Day, which contributed to a 0.8-percent bump in nonstore retail sales for the month. Going forward, a modest slowdown in these growth levels is likely, as we've now seen a few consecutive months with annual growth levels greater than 6 percent.
On Thursday, building permits and housing starts were mixed. Permits came in above expectations with 1.5-percent growth. Housing starts, however, came in at 0.9-percent growth, far below expectations for 7.4-percent growth. This result follows a decline of 12.3 percent for housing starts in June. New home supply remains low, and rising interest rates and housing prices appear to be affecting the market. Without meaningful growth in these two metrics, a lack of new homes could continue to drive prices up and eventually lead to slower overall growth in this important sector of the economy.
Finally, on Friday, the University of Michigan consumer confidence survey declined from 97.9 to 95.3. This decline was driven by growing concern over inflation. Consumer inflation expectations ticked up to 2.5 percent in July, and headline consumer inflation hit a six-year high. Consumer confidence is one of the key drivers of spending growth, so this will be another important area to monitor.
What to look forward to
On Wednesday, the minutes from the August 1 meeting of the Federal Open Market Committee will be released. At that meeting, the committee kept rates flat. The major section of the minutes to watch for will be the commentary surrounding inflation, as most inflation figures are now above the Fed's stated 2-percent target.
On Friday, July's durable goods orders are expected to show a slight decline due to transportation orders. The core figure, which excludes volatile transportation orders, is expected to show steady 0.5-percent growth. This proxy for business confidence has been growing steadily throughout the year, so a decline in the headline number would be nothing to worry about.
Have a great week!