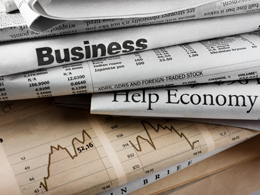 The economy is doing better than last week's headline numbers would suggest, and we'll find out this week just how much better that is.
A recap of last week's data
Employment. The most important release was the employment report on Friday. Job growth came in significantly lower than expected, at 151,000, well below last month's 292,000 and below expectations of around 200,000. Given that shortfall, however, the details were much more encouraging:
The unemployment rate dropped to 4.9 percent, an eight-year low, on strong job gains in the household survey, which suggests the payroll numbers might turn out better on revision than they look now.
The length of the average workweek ticked up to 34.6 hours from 34.5, meaning that labor demand increased by the equivalent of another 250,000 jobs or more, making the payroll numbers consistent with the household survey.
Wage growth also surprised with an increase of 0.5 percent on the month, suggesting that recent upward trends in wages continue as the labor market strengthens.
Overall, it was a disappointing headline number but by no means a disaster. In fact, looking under the hood, the jobs report was quite encouraging, especially in the face of other bad news.
Consumer and business confidence. The week also brought reports on consumer and business confidence, with both seemingly declining despite strong fundamentals.
Personal income was up by a reasonably positive 0.3 percent, in line with the previous month and slightly above expectations of 0.2 percent. Personal spending, however, rose by only 0.1 percent, down from an increase of 0.4 percent in the previous month, which had been revised upward.
In context, though, personal spending doesn't look so bad. Consumers remain reluctant to spend their extra income, and the savings rate increased to 5.5 percent from 5.3 percent. As consumer confidence numbers are actually quite strong, this suggests a change in behavior consistent with a return to prior levels of savings. We may be entering a new normal for savings rates, which would be a positive in the medium to long term. The weak personal spending increase may also be partially explained by record wet weather through most of the country.
As expected, the Institute for Supply Management (ISM) Manufacturing Index showed a small improvement, from 48.0 to 48.2, after a technical revision downward in the previous month. This still leaves the index in contractionary territory (below 50) but may be a sign of stabilization. The more forward-looking components, such as new orders and production, improved more significantly, but employment intentions ticked down.
The ISM Non-Manufacturing Index, which represents the service sector, disappointed to the downside, dropping to 53.5 from the previous level of 55.2. The underlying components were also weak, continuing a downward slide for the index, as the manufacturing sector drags on the rest of the economy. Although this index remains expansionary, the general slowdown has taken a toll.
A look at the week ahead
This week, I'll be keeping an eye on three key events:
Janet Yellen's testimony to Congress. Yellen's remarks on Wednesday will be closely scrutinized to gauge whether the Federal Reserve will raise rates in March. Although expectations are against an increase, Yellen will likely refrain from committing either way.
Retail sales data. January's numbers are expected to show a small increase, of 0.1 percent, up from a decline of 0.1 percent the previous month. Lower gas prices should pull the number down, as gas station sales look to have declined about 5 percent, but auto sales should provide a boost. Overall, the core number, excluding autos, gas, and building materials, is expected to increase around 0.3 percent, a healthy figure.
The University of Michigan Consumer Sentiment survey. Slated for release on Friday, the survey is expected to tick up slightly, to 92.5 from 92.0, with lower gas prices offsetting the volatility in the stock market.
Have a great week!