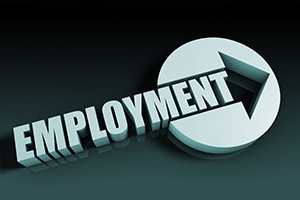 The monthly employment report comes out tomorrow, and markets are watching closely to see whether the string of positive surprises continues. If it does, it could be the start of a new upward run in the stock market. If not, it will suggest that economic strength may be starting to moderate. Either way, it will be big news.
ADP report looks optimistic
The signs are actually quite good overall. The most positive indicator so far is the employment report from ADP, the payroll company. It came in well above expectations yesterday, at 263,000 new private jobs in March. Expectations were for 185,000, so this is a significant beat.
But is it a good indicator for the official employment report? Historically, the ADP report often comes in higher than the official report, so we have to take this with a grain of salt. On the other hand, strong ADP results for the past two months have been good indicators, and this one may be as well. Details in the ADP report were also positive, with strength in small business hiring, as well as construction and manufacturing. If those results hold, it should help boost the official figures.
Also worth considering are the strong results so far this year. Hiring accelerated in the first two months, and as business confidence remains positive, it is quite reasonable to expect that to continue. From a macro standpoint, employment should continue to grow strongly, as the demand is there.
Still, some reasons to worry
That said, there are also reasons to be concerned from a macro standpoint. Most important is a growing shortage of available workers. The number of job seekers versus available jobs is at a multiyear low, and even fewer are actually qualified, a skills mismatch that employers report is worsening. Businesses are having a hard time finding workers they actually want to hire.
Other worries include weakening business intention surveys, which show slowing in expected employment growth figures. In the service sector survey conducted by the Institute for Supply Management, for example, the employment index dropped back sharply, and other surveys have shown potential weakness as well. This could be a leading indicator that the expansion is slowing.
Sentiment, however, is not the same as action. If jobs do come in with strong gains, it will be another case where the actual data is better than expectations—a welcome reversal of what we've been seeing recently.
I don't expect big surprises
I suspect we'll see job creation in the 180,000 to 200,000 range, slightly above the consensus expectation of about 174,000. The ADP number is a positive sign: Even if it overstates the official number by 60,000 (at the high end of previous errors), jobs would still come in around 200,000. My estimate accounts for that, as well as potential drags from sentiment and worker shortage.
This would be a healthy level of job creation and keep the expansion accelerating. Wage growth should remain in the range of 0.2 percent to 0.3 percent, maintaining growth in spending power. The unemployment rate is likely to remain at its current, very low levels. In other words, I expect continued growth but no significant surprises, either good or bad.
When things are going well, which they are, no surprises is a good thing. If we get one, we'll have to think about what that means. See you tomorrow after the data release!