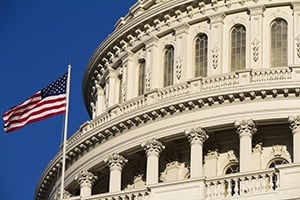 Several readers have reached out to me regarding news articles with headlines like "Clinton to Propose Increasing Capital Gains Taxes," wanting to know the implications of this and what we should do.
First, let's take a step back and think this through. A presidential candidate, who's not guaranteed the nomination much less the election, has floated a trial balloon designed to please part of her base. If Hillary Clinton is eventually elected, she would actually have to make that proposal, convince her party to introduce it in Congress, and then hope that it's enacted in the face of determined opposition from the other party, which will almost certainly control one of the two houses.
At that point, we might have a capital gains tax increase. Or, we might have something completely different. In any case, I'm not panicking just yet.
Washington's role in the economy and markets
The headlines point to a larger issue, though: Washington's influence on the economy and the markets. I'm not talking about the Federal Reserve here, but about the President and Congress.
Their power is largely negative. As we've seen over and over—the fiscal cliff being the most recent example—Washington has the power to damage both the economy and the markets. Taxation is one of the primary ways of doing that, and in this sense, worrying about possible capital gains tax increases makes perfect sense. Chief Justice John Marshall's dictum that "the power to tax involves the power to destroy" is even more true now than it was in the early 1800s.
The greater the likelihood of significant policy changes—whether it's higher taxes or more restrictive regulation—the more uncertainty will grow and the worse things will be for the markets and the economy. That's the real issue behind the headlines.
Let's not get ahead of ourselves
In all likelihood, though, we will continue to have divided government. If Clinton were to be elected, she would face a Republican-dominated Congress that would constrain any left-leaning actions she proposed. Conversely, a President Clinton would be in a position to veto any right-leaning moves by the same Congress. Any proposal that actually got through would have to have substantial, bipartisan, centrist support to pass—not a bad thing.
We will certainly see more headlines like this one over the next year. But don't get too concerned. It's the nature of politicians to promise the sun, moon, and stars only to sober up after the election. I won't be worrying too much about any proposals that aren't introduced to Congress by elected officials, which means I won't be worrying too much on that topic during the election cycle.