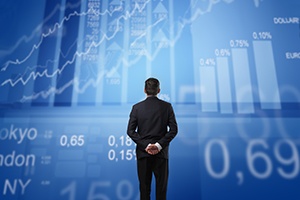 I'm at the Commonwealth Chairman's Retreat this week, which, as usual, is a real treat. The conference is always held in a wonderful location, with great speakers and content—not to mention the chance to connect with some of the best financial advisors in the world.
Last night, we had a really interesting discussion about how to tell if the market is overvalued. Is it possible to develop a decision rule that works for everyone and lets investors use their own assumptions to derive their own conclusions? Today, we'll start thinking through one approach.
Establish your required return
Let's begin with a question: what extra return do you need, over and above a government bond, to compensate you for the risk inherent in the stock market?
A government bond will pay with certainty, both coupon payments and principal at maturity, but the stock market's returns are by no means certain. The amount you want to be paid for taking that risk is known as the equity risk premium. Most estimate it between 5 percent and 8 percent, which, added to the current interest rates on government bonds, equates to a required return of around 8 percent or 9 percent.
Assess the likelihood of getting it
The next question is, how likely are you to get that return?
Stock returns come from two places, dividends and capital gains. Right now, dividends are around 2 percent to 3 percent, on average. We'll call it 3 percent, which is optimistic, and call the required return 8 percent. That means you need to make 5 percent, on average, in capital appreciation to reach your target return.
Where might that appreciation come from, and what would it take to get there? Capital appreciation comes from a combination of earnings growth (companies making more money) and valuation expansion (investors paying more money for that stream of earnings). Earnings growth typically tracks economic growth over time, which, right now, means around 3 percent to 5 percent over multiyear periods, if we're lucky.
Let's assume we are lucky and get 5 percent earnings growth, over time. In that case, given current prices, we could hit our target return without any valuation expansion. With those assumptions, the market is fairly valued.
Factor in a rate increase
All of the above assumes that current interest rates continue at the extremely low levels we have seen for years. But what if they increase?
If government bond yields, for example, went up another 2 percent, which is quite possible, then the required return—expressed, remember, as the extra return you need from the stock market to compensate for risk—goes from 8 percent to 10 percent, and the required appreciation now increases to 7 percent. With earnings growth at 5 percent, we need additional valuation expansion of 2 percent per year. With earnings growth at a more realistic 4 percent, we need valuation expansion at 3 percent per year.
That doesn't sound like a lot, but the implications over time are significant. For 3-percent expansion, valuations have to double over 24 years. In other words, to get your required return, the market has to get more expensive over time. We'll talk about the implications of that tomorrow.
Investments are subject to risk, including the loss of principal. Because investment return and principal value fluctuate, shares may be worth more or less than their original value. Some investments are not suitable for all investors, and there is no guarantee that any investing goal will be met. Past performance is no guarantee of future results. Talk to your financial advisor before making any investing decisions.