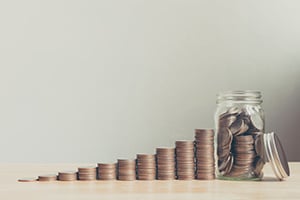 Scarcity isn't a concept that we, as a nation of consumers, are used to. When we want to buy goods, low-cost producers across the world fall over one another to produce and ship to us. But scarcity is exactly what we have been dealing with for nearly two years—from toilet paper and cans of beans to automobiles and now holiday items. First, the pandemic put a halt to economic activity across the globe. Factories, ports, and physical stores were all shut. Then, consumer demand returned with a vengeance, but supply chains were slow to ramp up.
Now, we are heading into a holiday season that promises to be liberating, as we can gather, exchange gifts, and celebrate in person. But it will also be challenging, as consumers may need to scale back while businesses will have to ramp up. Still, the outlook for investors remains upbeat as a record holiday season will help support companies' earnings.
Holiday Shopping 2021
2020 was a different era in more ways than one, and holiday shopping was no exception. Many of us were sheltering at our homes last December, and most of our holiday shopping occurred online. Gifts arrived in Amazon boxes (which seemed to deliver to our neighborhood far more than usual), while physical stores had much lighter crowds.
Fast-forward to 2021: while some shopping will still occur online, more shoppers will head to the brick-and-mortar stores, as they're feeling more comfortable with the medical risks and are well aware of heightened shipping delays. Physical stores will welcome this reprieve with open arms, especially after 18+ months of muted activity and the accelerated shift to e-commerce. Shoppers are also upbeat, with more jingle in their pockets and a willingness to spend. Retailers, on the other hand, will face a trifecta of challenges in inventory shortages, unavailability of seasonal workers, and higher inflation.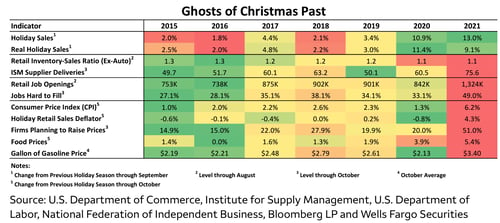 Festive Consumers Ready to Spend
Despite the pandemic, last year's holiday season was marked by strong consumer demand boosted by stimulus checks. This year, consumers are still flush with savings. Many more are employed than at this time last year, and COVID fears are subsiding. Thus, Americans are entering this holiday season in festive spirits and ready to spend.
The usual holiday gifts will certainly be in demand—toys, sporting goods, gadgets, and so forth. But with physical goods in short supply, shoppers might turn to gift cards and experience-oriented gifts. This shift could be a positive for companies, as gift cards will likely be spent over time, extending holiday shopping beyond the holidays. Further, money spent on experiences will be good for service companies that are still struggling to return to pre-pandemic sales levels.
Inflation on the Naughty List
One item that is not on consumers' shopping lists but that everyone will get this holiday season is inflation. With a scarcity of supplies and an abundance of demand, just about everything is costing more for holiday shoppers this year. According to a recent Conference Board survey, 60 percent of consumers expect to pay more for food and gifts this year. While input costs have risen for businesses, they have been able to pass on the higher costs to consumers, thus maintaining their margins. Retailers will also be offering fewer discounts to lure shoppers as demand is plentiful. But when the price of essentials such as food and energy starts to chip away at consumers' wallets, confidence and holiday spending could take a hit.
Santa Has to Pay Up
The paucity of goods is matched by the dearth of seasonal workers needed to stock the shelves and help the sea of holiday shoppers. The holiday season is always a peak time for retailers to hire seasonal workers. But most retailers, like all other industries, are facing a severe labor crunch as a result of the pandemic. In turn, retailers are offering higher wages as well as other perks and incentives to lure workers.
Average hourly earnings have risen by 3.1 percent in the first nine months of the year, and by much higher for categories such as delivery workers. Some of the labor crunch may ease as more workers who have chosen to remain out of the labor force are forced to return to work. Pandemic-era unemployment benefits shielded many from a lot of economic damage due to COVID, but those benefits expired in September. Rising inflation is also causing a strain on budgets, as prices of essentials and shelter have risen. This changing financial calculus will nudge more elves back into the workshop. But, in nominal terms, Santa will be paying up for their services.
The Most Wonderful (Stressful) Time of the Year!
This holiday season will be challenging, with supply chain woes, labor shortages, and inflation. But it will likely be a banner year for holiday spending, and companies that can keep up will be able to earn record profits. While families may prepare for fewer presents under the tree, investors will be gifted with another strong quarter of earnings by corporate America.