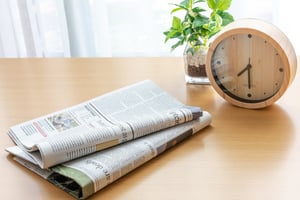 Each week, we break down the latest U.S. economic reports, including what the results mean for the overall health of the economy. Here, you will find how economists' forecasts compare with actual results, key takeaways to consider, as well as a list of what's on tap for the week ahead.
Reports for the Week of November 6
Trade balance, September (Tuesday)
Expected/prior trade balance: –$59.8 billion/–$58.7 billion
Actual trade balance: –$61.5 billion
The trade deficit widened modestly in September due to a rise in imports during the month. Despite the increase, the size of the monthly trade deficit remains well below the record levels we saw in early 2022.
University of Michigan consumer sentiment survey, November, preliminary (Friday)
Expected/prior month consumer sentiment index: 63.7/63.8
Actual consumer sentiment index: 60.4
Consumer sentiment fell more than expected in November due, in part, to rising short- and long-term inflation expectations. Lower-income and younger consumers saw the largest declines in sentiment to start the month.
Upcoming Reports for the Week of November 13
Consumer Price Index, October (Tuesday)
Consumer inflation is set to increase modestly in October, with year-over-year price growth expected to drop from 3.7 percent to 3.3 percent during the month.
Retail sales, October (Wednesday)
Retail sales are expected to fall modestly in October due, in part, to a notable drop in gasoline prices during the month. Core sales, which strip out the impact of volatile auto and gas sales, are set to increase modestly in October.
Producer Price Index, October (Wednesday)
Producer inflation is also set to moderate on both a monthly and year-over-year basis in October.
Industrial production, October (Thursday)
Economist forecasts call for slightly lower industrial production in October, following a larger-than-expected increase in September.
National Association of Home Builders Housing Market Index, November (Thursday)
Home builder confidence is expected to remain unchanged in November, which would leave the index in contractionary territory.
Building permits and housing starts, October (Friday)
These two measures of new home construction are expected to drop modestly in October following a drop in home builder confidence.