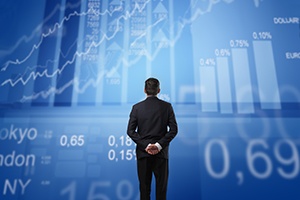 Here we go again!
It's not often that I get to repurpose a post as quickly as I did this one. In early December, when the Dow hit 24K, I wrote about how we should enjoy it but not get too excited. Just a month later, the points I made then are even more relevant now. I went through and edited the post, to reflect the most recent milestone and make some additional points. With these revisions, I think it is worth posting—and reading—again.
Dow 25K
The Dow has hit yet another milestone: 25,000. By all means, cue the fireworks, cheering, champagne, and so forth. But since this is the sixth time since the start of 2017 that a 1,000-point milestone has been reached, let's take a step back. After all, anything that happens six times in 12 months is hardly uncommon—and perhaps not worth getting too excited about.
A look back
The Dow cracked 20K in late January, 21K at the beginning of March, 22K at the start of August, 23K in mid-October, and 24K just over a month ago. So, not only is this the sixth 1,000-point record in the past 12 months, they seem to be coming faster.
To put this in perspective, let's look at the bigger milestones. The Dow moved from 21K to 25K (4,000 points) in 10 months. To find that same gain, you would have to go back to 2013, when the Dow hit 16K in November before rising to 18K in December 2014. As we know, it took until January 2017 to get the next 2,000-point bump to 20K. The last 4,000-point bump took over four years, with a 2,000-point bump in 2014 followed by years of back-and-forth market action until the market started moving higher about a year ago. This recent 4,000-point bump took less than a year. Think about that.
What comes after the good years?
Indeed, the past five-plus years have been terrific ones for U.S. stock markets. 2017, with its multiple records, was especially great. Not all years can be great, however. The aftermath of the last big surge in the Dow in 2014, after which markets were flat or down for two years, should be a cautionary tale.
In point terms, 2017 saw twice as big a gain as we saw in 2014. Of course, in percentage terms, the gain is relatively smaller but still well above what we saw then. When markets move up this much and this fast, they often need time to take a break and let fundamentals catch up with the new valuations. Future returns, over the next several years, are often less than people expect after the good years.
What about the Dow?
The Dow also has quirks of its own to consider. For example, it is a price-weighted index. So companies with higher share prices have more weight in the index, even if they are not the biggest ones by, for instance, sales or market capitalization. The Dow also includes only 30 companies, making it far less representative than other indices. In other words, even though it seems like the Dow is the stock market, it really is not.
The S&P 500, a much more representative index (but still only 500 large companies), is trailing behind the Dow, in both percentage terms and the number of milestones (100-point blocks in this case). The gap is due to the quirks in the Dow, and it suggests that the market as a whole is not doing quite as well as the Dow would suggest. Smaller company indices are doing even less well. The Dow, with 30 of the best-known companies, is leading the way—but it is not the whole parade.
Look beyond the headlines
So, enjoy the celebration and drink the champagne. But remember this: 25K is not necessarily a sign that everything is as good as the headlines suggest—now or (especially) looking forward.