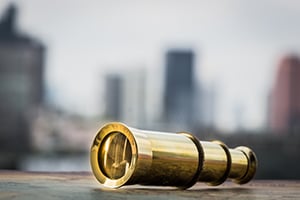 Today's post is brought to you by Anu Gaggar, international analyst, and Giovanna Zaffina, manager, wealth management platform.
In 1908, thousands of women marched in the streets of New York City demanding change—including better labor laws and the right to vote. Then, in 1910, 100 women representing different nations came together in Denmark for an international women's conference, and International Women's Day was born. Since then, March 8 has been a day to pay homage to the women who have taken action to help close the gender gap and level the playing field. In the 1980s, that one-day event turned into a monthlong celebration in March, now known as Women's History Month.
In honor of International Women's Day 2021, we'd like to spotlight some of the outstanding women pioneers in the world of finance and economics. These women broke through concrete ceilings, created (or are creating) timeless legacies, and paved the way for a more equitable workplace in a male-dominated industry.
Abigail Adams: Savvy Investor
Abigail Adams (1744–1818) is known to many as President John Adams's wife, as well as the mother of President John Quincy Adams. But many may not know who she was beyond that. In fact, her intellect and passions pushed the social boundaries of her day. Not only was she her husband's most trusted advisor and a supporter of women's rights, but she was also a savvy investor. Adams oversaw the household finances while her husband was away, along with her own "slush fund." She was actually one of the first female bond traders of her time. When most people were buying real estate, she was trading government-issued bonds—during the Revolutionary War! Taking a risk and doing it "quietly," Adams more than doubled her investments, using some of this wealth to help women in need.
Gail Pankey-Albert: Wall Street Pioneer
Gail Pankey-Albert (1954–) started working for the New York Stock Exchange (NYSE) right out of high school in 1971. Since her family couldn't pay for her college tuition, she forged her own path to "alter the dynamics of her life." Pankey-Albert took on various roles within the NYSE, including a punch card carrier, a computer operator, and an institutional clerk. Then, in 1981, she became the first Black woman to hold a coveted seat on the floor. That promotion was not without its challenges. Some tried to hinder her ability to do her job by cutting her phone lines or filling her desk drawer with parmesan cheese so it dried like concrete. But Pankey-Albert would not be derailed. She went on to launch her own institutional trading firm that remained successful for the next decade. After 30 years on Wall Street, Pankey-Albert left to pursue her dream of getting her college degree. In 2010, she graduated from Thomas Edison University with a bachelor's degree in business administration and now holds a PhD in business administration/international business from Northcentral University.
Beatriz Acevedo: Latina Trailblazer
Beatriz Acevedo (1969–) is an entrepreneur who is constantly reinventing herself. Growing up in Mexico City, she was a child prodigy who was hired as a radio disk jockey when she was just eight years old. When Acevedo moved to the U.S., she made her mark as a radio and television host, as well as a creator and producer of award-winning TV shows and digital series in multiple languages. In 2020, Acevedo co-founded SUMA, a financial wellness company, with the vision of closing the Latinx wealth gap by providing financial education via in-culture content, fintech tools, and digital experiences, all in a highly engaging wealth-building digital platform. She has dedicated her career to creating opportunities for the voices of diverse youth and to influencing authentic and positive depictions of Latinos in society.
Gita Gopinath: Economic Powerhouse
Gita Gopinath (1971–) is the first Indian American woman chief economist of the International Monetary Fund, appointed in 2019 by Christine Lagarde. She is leading the charge to ensure the stability of the international monetary system, including exchange rates, international payments, and macroeconomic and financial-sector issues that bear on global stability. Born in India to a middle-class family, she inherited her father's spirit to fight odds. She dabbled in sports, music, and fashion before pivoting to economics. She earned five gold medals for her undergraduate work at one of India's best colleges for economics before moving to the U.S. Gopinath earned her MA from the University of Washington and PhD from Princeton University, under the supervision of Ben Bernanke and Kenneth Rogoff. Her journey from a middle-class Indian girl to a world-class economist and academician is one of grit and hard work.
Janelle Jones: Economist in Chief
Janelle Jones (1984–) is the first woman of color to hold the position of chief economist at the Department of Labor. In January 2021, President Joe Biden appointed her to research, analyze, and report on the current economic and financial trends in the U.S. This was a historic appointment. Women have been underrepresented in economics—with Black women filling only about 1 percent of jobs in the profession, according to Bloomberg. At the age of just 36, Jones has spent more than a decade at economic think tanks and hopes to leverage her intimate knowledge of the complex U.S. economic strata to fix deep-rooted issues plaguing the labor market. She is in a position to influence the future of millions and help level the playing field for so many. Growing up in Ohio to parents who encouraged education and fearlessness and graduating from Spelman College in 2008 during the financial crisis, she is living the American dream and making history.
Choose to Challenge
A challenged world is an alert world. And from challenge comes change. So let's all #ChooseToChallenge.
Despite data showing that companies in the top quartile for gender diversity on executive teams were 21 percent more likely to outperform on profitability, the financial services industry has not kept pace when it comes to balancing gender equality. According to a study conducted by McKinsey and LeanIn.Org, women account for half of the entry-level workforce in financial services in North America. But when it comes to the C-suite in financial services? Women representation drops to less than one in five positions.
Past and present, the women highlighted here are helping change the narrative. They come from different backgrounds but share an unflinching determination, a belief in themselves, and a passion for their work. Their stories are an inspiration for many. Let's take the opportunity to commemorate International Women's Day and Women's History Month by choosing to challenge the system, include women in the conversation, and advocate for equitable representation at the table.