In yesterday's post, I wrote that higher costs will result in lower growth. We also have other reasons to be concerned that future growth rates won't match those of the past—with significant impacts on investing.
Here's the short version: lower future economic growth is very likely to result in lower future stock returns. I'll get into the details below, but one chart makes the case quite clearly.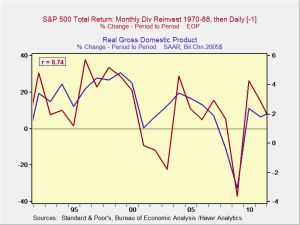 You can see that, over the past 20 years, the returns of the S&P 500 have been significantly affected by the economic growth rate, with a lag. In essence, this makes sense—when the economy is doing better, so will companies. If, on the other hand, the economy grows more slowly, so should the stock market.
The question at hand is, What can we reasonably deduce about future economic growth, and what should we do about it? The first part of that question is, in many ways, the easier to answer.
There have been two major components of economic growth over the past several decades: debt growth and workforce growth. (Note that I'm oversimplifying here for purposes of analysis.)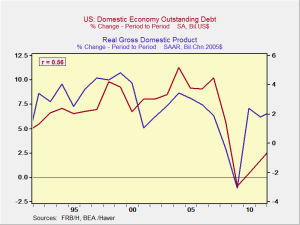 As you can see above, debt growth has a strong correlation to economic growth over that time period. Both were generally strong. Again, the correlation makes sense; as consumers borrow to spend, they drive present growth at the expense of future payments, which will reduce growth. The question then becomes, Will future debt growth support the continued expansion, or has the bill come due?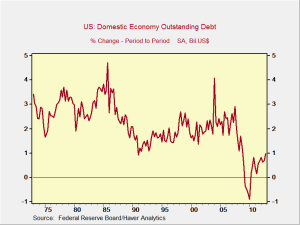 The evidence suggests the bill has come due. Currently, debt is growing at the lowest rate of the past 40 years. For it to provide the same level of support that it has in the past, debt growth would have to double or triple. Can this happen?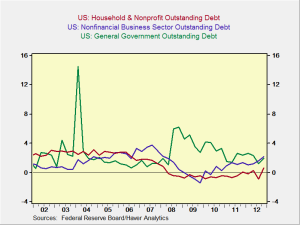 Probably not, for several reasons. First, two of the major components of the economy, government and business, are growing debt at rates reasonably consistent with past levels—not much scope for a sustainable increase there. In fact, a decrease is more likely, especially for the government. The only sector that's running below trend is households. While there has been a recent uptick, household borrowing would have to increase by more than 10 times to match previous levels. That's neither likely nor desirable, in my opinion.
Even given the willingness to borrow more, each of these sectors has hit limits, per the above chart, so the ability probably isn't there.
If debt expansion is going to support slower growth, what about workforce expansion? As shown below, there's also a correlation between growth and the size of the workforce.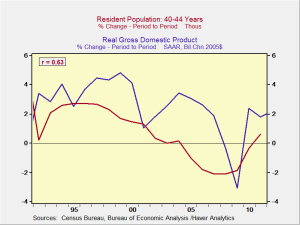 You'll see that I've broken out part of the workforce for this chart, those between 40 and 44 years old. Looking at economic growth over the postwar period, the most important demographic cohort has actually shifted with time, getting older. Why? The baby boomers have been the determinative cohort, and, over the time period above, their average age was around 40–44.
The problem is that the boomers are now aging, moving from their most economically productive years into less productive ones. They will be earning less, spending less, and demanding more. Generation X simply isn't large enough to pick up the slack. The Echo Boom generation is large enough, but they won't hit their peak years until 2020, and even then will merely offset the decline caused by mass boomer retirements.
The chart below shows expected labor force changes. (The data is from Haver Analytics, as prepared by Commonwealth.)

So, over the next 10 to 20 years, labor force growth in the most productive cohorts will be lower, adversely impacting growth. On an aggregate basis, growth rates will continue to decline over the next decade and more.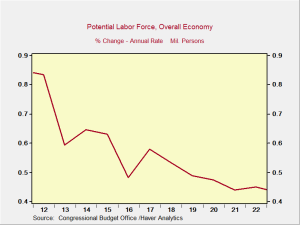 With debt growth at low levels, workforce growth shrinking, and the aging of the population, only an increase in productivity could really pick up the pace. In fact, we've seen just that over the past couple of years—a principal reason that corporate profits have done so well. Now, however, productivity growth has been rolling over, and projections are for general stability.
Overall, all of the indicators line up to predict a slower—possibly much slower—growth rate than the U.S. has historically seen. In my conclusions and the figures I've put together, I'm in good company. Bill Gross of PIMCO is projecting growth at an average of 1.5 percent, Jeremy Grantham of GMO at 1.4 percent, Rob Arnott's Research Affiliates at 1 percent, and Robert Gordon of Northwestern University even lower.
Whatever the final number, it seems clear that, for very good fundamental reasons, there is a serious risk that future economic growth rates could be well below what we have seen in the past. This would impact everything we do, starting with the stock market, which I'll talk about tomorrow.