— Guest post from Peter Essele, senior investment research analyst
Traditionally, to make prognostications concerning the direction of the economy, investors and economists alike tend to look at the total change for nonfarm payrolls on a monthly basis. Commonwealth's Asset Management team has developed the metric shown here, which is a slightly different way of looking at the same data.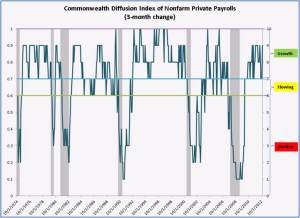 The Diffusion Index considers the three-month change for each industry component of nonfarm payrolls (e.g., financial activities, manufacturing, information, education, health, etc.), counts the number of positive values, and then divides by the number of industry sectors. For instance, if 3 of the 10 industry sectors are positive, the index presents a value of 30 percent. As is evident in the chart, this metric has done a fairly good job of determining past recessionary periods, which have tended to coincide with a drop below 60 percent in the index.
The index currently stands at 90 percent—one of the highest readings since the start of the recession—which signifies positive growth in 9 out of 10 industry components. This reading is certainly a constructive development for the domestic economy, especially if it remains in the 80-percent to 100-percent range.
Last quarter, the only sector of the economy to lose jobs was Information, which shed 1,000 jobs. This sector, which consists of the publishing industries, excluding Internet, motion pictures, and sound recording; broadcasting, excluding the Internet, Internet publishing, and broadcasting; and telecommunications, hasn't seen an increase in payrolls since June 2007. This isn't all that troubling, however, as it only accounts for about 2.4 percent of total private payrolls in the U.S.