As a follow-up to yesterday's post on inflation, I wanted to add some interesting charts prepared by Pete Essele, who has contributed before. As you can see in the first chart below, there appears to be a lag between the blue line, which is food and energy inflation, and the red line, which is the core rate for everything else.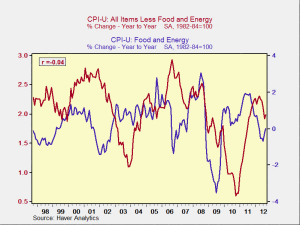 That link is confirmed both visually and statistically in the following chart, which shows, in Pete's words, that "food and energy does a good job of predicting core inflation 16 months out—in the last 14 years, anyway."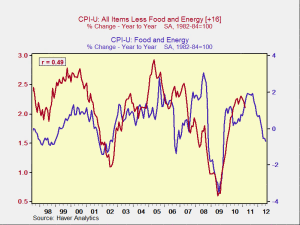 So what does that tell us today? That inflation may well be going down over the next year or two, which is counterintuitive, given the recent increases in energy prices. That remains to be seen, but in the meantime, the case for more inflation is not clear-cut, and there is a good case for the opposite.