The U.S. consumer represents approximately two-thirds of the total economy, so what he or she does matters to everyone. The paradox of thrift is particularly relevant here, in that the less consumers spend and the more they save, the slower the economy grows. We need to delever—and that is happening, but not too fast.
In that light, the recent September retail sales report indicated an increase of 1.1 percent, which was higher than expected. The overall figure had to be revised down a bit for one-time factors, such as the release of the iPhone 5, but it still was a very strong result.
Consumer spending has now recovered to above the precrisis levels, per the following chart.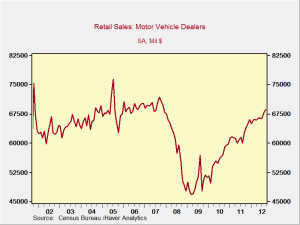 I included a couple of data series here. Looking at blue line, total retail sales, we can see that after the 2008–2009 drop-off, the recovery has been so steady that we are now at a new high. Also worth noting is the recent uptick.
As I mentioned in my post on inflation today, though, volatility in various components of an index can make it seem better or worse than it is, with gasoline a particular outlier. That is why I also looked at the red line, which is retail sales excluding autos, gas stations, and building materials, all of which are quite volatile and outside what most people think of as retail sales. Here, too, we see a recovery to new highs. We also see a much smaller decline during the crisis, which is reasonable. People are much less likely to make a large, financing-dependent purchase, such as a car, in the middle of a crisis. Because of that, it is worth looking at how auto sales have performed alone, per the following chart.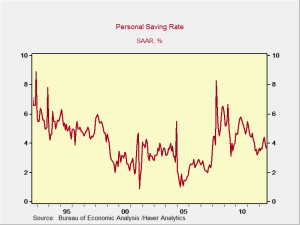 As expected, we see a much sharper drop-off and a much sharper recovery—which continues. As I have mentioned before, I consider auto sales an indicator of consumer confidence, so this is a good sign.
Finally, although overall spending and auto spending are excellent indicators of consumer confidence, to gauge the future of consumer spending, it's also helpful to look at personal savings rates and consumer confidence surveys. Personal savings rates right now are below recent highs—a sign of higher confidence. Still, they remain at healthy levels, as seen in the following chart.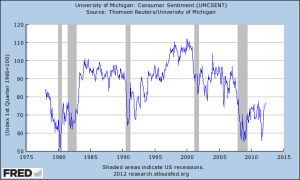 Overall, the two-thirds of the economy driven by the consumer appears to be in solid shape, and this is reflected in consumer sentiment surveys, below. Although still at low levels, consumer sentiment is at least moving in the right direction, suggesting the improvement in retail sales may well continue.