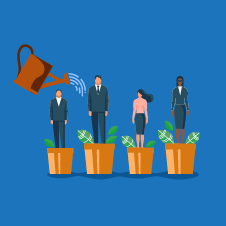 If you're a next-gen advisor, chances are you started out doing a lot of things for your firm that no one else wanted to do. Maybe you had to sign for packages or sit on phone duty. You likely stuck with it, knowing that learning the business from the bottom up can set an advisor up for success. But getting to the point of success can take a while and may involve working with prospects who don't seem like they would bring significant value to the firm.
I recently spoke with two successful next-gen advisors affiliated with Commonwealth about how they built thriving practices by working and growing with "C" clients. Read on to hear their stories—and find out how you might take a similar path to the top.
Advisor Profile: Paul Nelson, Viewpoint Financial Advisors
When Paul Nelson graduated college with a business economics degree, he thought success was working in a high-rise and looking sharp in expensive suits. That's exactly what Paul got—only he realized he didn't love it. He was looking for a change when his mother, Commonwealth advisor Grace Nelson, approached him with what would become a career-defining idea. A friend was retiring, and Grace wanted to buy the practice, but she couldn't do it alone; she needed Paul's help. Grace asked him for "just one year," of his life and, in return, offered to train him.
Paul started out cleaning the refrigerator and filing prospectuses, but true to her word, Grace developed him as an advisor. Paul started to understand application and underwriting processes, investment and annuity nuances, and the importance of financial planning. Eventually Paul sat in on meetings, and when he began to see firsthand the relationships that formed and the good that comes from people working with a caring advisor, he was hooked.
Paul started with very small clients who he "couldn't possibly mess up"—people with a $15,000 rollover or a $25,000 direct investment. These small clients would have been "C" clients for many advisors, but they were "A" clients to Paul, and he gave them his careful attention. The client meetings led to discussions about financial planning and uncovering additional assets, as well as referrals. As Paul puts it, "Business grew as the relationships developed."
Another way business could grow, Paul believed, was through improved marketing efforts. He brought back several ideas from a program Commonwealth's Practice Management team offers that dives deep into client-facing activities. As clients responded to the changes he implemented, the firm also noticed, and Paul was given a leadership role in marketing and the client experience.
In addition to growing his business, Paul had a goal to move to advisory fees. The process took years, but now, half of his business is fee-based. Paul says these changes have made the business more efficient and improved the bottom line.
As a successful next-gen advisor himself, Paul understands the mind-set of many of his younger clients who are used to subscription models of business. As a result, Paul just signed his first subscription client using Commonwealth's Wealth Management Consulting program, and he fully expects that many others will follow this innovative business approach, as it simply makes sense.
Advisor Profile: Timothy Kelley, The Murphy Financial Group
Timothy Kelley started at the bottom—twice. His career as an advisor began with servicing the smallest clients of a very large advisor. As Tim puts it, "A 'C' client would have been a huge step up!" But Tim persevered and built up a nice practice for himself, only to give up all those clients when he went into management at American Express. Tim learned a lot as a vice president managing advisors—including that he really didn't like managing advisors. It turned out that he missed helping and interacting directly with clients. So, he joined Charles Murphy at The Murphy Financial Group. Tim started out small again, purchasing another advisor's lower-end clients. As these relationships prospered, Tim would uncover new assets, and he slowly created his own "A" clients.
Referrals are the lifeblood to any business, and Tim was quick to see the potential referral opportunities he could gain from a strategic alliance. So, he established relationships with several advisors who focus solely on retirement plan business. They send any clients who are looking for individual wealth management services his way, and he estimates that around 15 good, qualified candidates are referred to him each year.
When he gets a referral, the first step is a phone conversation, to determine if the prospect is a good fit for the practice. If so, a face-to-face meeting is scheduled, and that's where the growth potential lies. By following a disciplined, three-meeting process, Tim has a conversion ratio that he estimates at better than 85 percent. Here's what he does:
Meeting One: This general meeting covers due diligence. Tim reviews the fact finder and discusses positioning, goals, and objectives, while also offering an opportunity for clients to ask questions.
Meeting Two: Tim reviews all the planning components, such as retirement planning, cash reserves, and debt management; reviews the client service model; and presents his investment recommendations.
Meeting Three: This is the implementation meeting, when accounts are opened and money is transferred. There's a lot of paperwork, but Tim tries to make it as easy and as enjoyable as possible.
Tim thinks his process sets the stage for relationships that will thrive for years to come. For example, a widowed prospect recently came in with a small amount of cash to invest. It wasn't much, but Tim went through his process. The woman was accompanied by her grown daughter, who was so impressed that she asked to become a client as well and transitioned a significant chunk of assets to Tim from another advisor.
Another promising opportunity came from the firm itself, which is related to The Murphy Insurance Group. Tim and Charlie Murphy realized the more than 2,000 property and casualty customers of the separate insurance entity had never been offered wealth management services. This is where Commonwealth's Practice Management group stepped in to help them develop a plan and strategy to market to these customers. Soon after they sent an e-mail to a small group of insurance customers, one called to say he had just started thinking about needing a plan for college. This prospect had a number of scattered retirement accounts, lots of stock, and assets close to $2 million.
Right now, Tim is honing his marketing skills on a targeted approach for all those insurance client prospects by developing a campaign with two different messages and value statements. Tim plans to do A/B testing with his e-mails to see which is most effective and will further refine his marketing message with subsequent prospects. The upside opportunity is tremendous!
Advice from Those Who've Been There
Here are some tips from Paul and Tim for all next-gen advisors looking to grow:
Don't be afraid to ask for help. Accept that you don't know everything, and be willing to let someone teach you.
If you set up a process for your systems, workflows, and responsibilities, it will help your current business and help you scale for future growth.
Have faith in good ideas that get rejected—there may be another opportunity to move forward on them.
Know when to start the conversation on financial planning; that's usually how deeper connections and relationships are formed.
Be sure to spend quality time interacting directly with clients, as relationships are key to your success.
Taking the Next Step on Your Path to Success
If there's one thing to take away from the journeys of these and other successful next-gen advisors, it's to create a plan and stick to it. Whether you're just starting out with the smaller clients of another advisor or building on referrals with great potential, setting goals (and celebrating wins!) is the key to getting where you want to be. And remember: those "C" clients may just become the profitable, lasting relationships that will help you build your firm and keep it growing for years to come.
If you're a next-gen advisor, what's the next step on your path to success? Will you spend more time fostering new relationships or strengthening your marketing efforts? Share your ideas and strategies with us below!