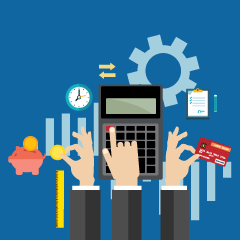 People consider filing for bankruptcy for a number of reasons. But whatever the reason, this option is often seen as a last resort—a solution to be considered only after all other potential remedies have been exhausted. Unfortunately, the stigma associated with bankruptcy may make those drowning in debt hesitant to seek relief. Some have ethical objections, and others may view bankruptcy as an admission of personal defeat. As a result, a petition for bankruptcy relief is often made far later than objectively advisable.
Accordingly, it's important that you advise clients of their options to eliminate or reduce their debt through personal bankruptcy. To do so, you need a firm understanding of the types of bankruptcy, the filing requirements, and the consequences of this decision. The following SlideShare outlines these bankruptcy basics and much more.
The Path to a Healthy Financial Future
By educating your clients about these bankruptcy basics, as well as which option would work best for them, you'll give them the tools they need to make good financial judgments. Ultimately, that's the path to a healthy financial future.
Editor's Note: This post was originally published in June 2017, but we've updated it to bring you more relevant and timely information.
Are there other bankruptcy basics financial advisors should consider? Share your thoughts with us below.