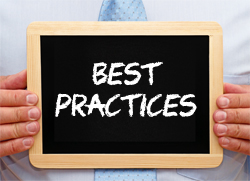 Writing for the web isn't especially difficult or challenging. You just need to know how to present your content appropriately so that visitors can easily—and quickly—read, understand, and retain the information.

You may be wondering how presenting web content differs from other types of writing. Simply put, information online is read very differently from something in print. It's scanned as opposed to being read word for word, as you would read a book or magazine.
To help facilitate scanning of the information you present online, including e-mails, Word documents, and website content, we put together a cheat sheet of the three keys to success: legibility, readability, and scannability.
Legibility
Reading on a computer screen is more difficult than reading on paper because screen resolutions aren't as clear, so it's important to make your content easy to see. Here are a few guidelines:
Font. We recommend Calibri, Arial, or Verdana, but similarly clean, sans-serif fonts may also work for your site. Most text should be between 10- and 12-point size. This is especially important for financial advisor web content, since many viewers are over 60 years old.
Color. A dark-colored font on a light, plain background is the easiest to read since it has the highest contrast. We recommend black text on a white background for maximum clarity.
Format. Never use all caps. Emotionally, this can come across as yelling, potentially rubbing some readers the WRONG WAY. It's also more difficult to process the words when all the letters are uniformly presented.
Readability
Readability measures how easy or difficult your content is for a visitor to understand and retain. By enhancing the readability of your content, you can help ensure that your visitors spend time on your site, absorb the information, and want to come back again. Here are a few important tips to keep in mind:
Brevity. Write 50 percent (yes, 50!) less text than you would for print.
Sentences should be fewer than 20 words.
Paragraphs should be fewer than 6 sentences. The best practice is to include only 2 to 3 sentences per paragraph.
Reading level. Craft text that's easy for the average reader to grasp. There is a setting within Microsoft Word that will automatically measure the reading grade level and present it after you spell-check your document. (You can turn it on by going to File > Options > Proofing and clicking on Show readability statistics.) You want to aim for this measure to show a seventh or eighth grade level. Keep in mind that multisyllable words and complex sentence structures can increase the grade level.
Cleanliness. Check spelling, grammar, punctuation, and formatting. It's a good idea to have several colleagues and trusted professionals—or possibly a professional editor or proofreader—review your website to ensure that everything's perfectly polished.
Scannability
Research shows that website readers have difficulty finding a specific piece of information on a page containing wall-to-wall text. They usually skim content for the specific information they want—and scan for links and titles. Facilitate scanning with the following strategies:
Segmentation. Avoid large blocks of text by breaking content into several small sections.
Label sections with clear headings and subheads so your readers can quickly jump to the information they want.
If you have a list of information in a sentence separated by commas, turn those items into a bulleted list instead.
Logical flow. Be sure to organize information logically. Use an "inverted pyramid" style so the most important information is at the beginning.
Links. Links draw a reader's attention to certain categories of information. Try to avoid linking words like "click here" or "more" and put links on more descriptive terms like "our comprehensive wealth management services" instead.
Emphasis. Stick with bolding or italics to emphasize certain words or phrases, as opposed to underlining the content. We've become conditioned over the years to think that underlined words are links, and it can be frustrating to click on an underlined word and find that it's not a link.
Remember: Your website will never be a finished product. Be sure to continually and consistently analyze, refine, and update your web content to better reflect you and your business and reach your target audiences. With this cheat sheet in hand, you'll be well on your way to successfully writing for the web—and presenting your content in the most effective way!
Do you have any other tips for fellow financial advisors on presenting web content? Share your thoughts by commenting below.